So, I stumbled across an old recipe I had messed around with for a killer spice paste. I usually put it on lamb shoulder. I wanted to do a brisket tomorrow and thought - why not smear this stuff on it? It gets its dark red color from the dried gaujillo and pasilla chiles. This stuff smells of old Mexico - Cinnamon, cloves, allspice, garlic, chiles oregano and onions. I couldn't resist trying it on my brisket. And since I love to share, here it is:
6 TBS White Vinegar
2 TBS fresh squeezed lime juice
1 Tsp Kosher Salt
1/2 Tsp Dried Oregano
1/2 Tsp Ground Cinnamon
4 dried Guajillo and 2 Pasilla chiles (or a couple dried chipotles work too), stems and seeds removed - torn in piece
5 Cloves Garlic, rough choppped
2 whole cloves
2 whole allspice berries
1/2 Small onion, rough chopped
Dump the works in a food processor and blend it to a paste. Makes about a cup or so. It will smell incredible and be messy as heck. Here's what it looks like.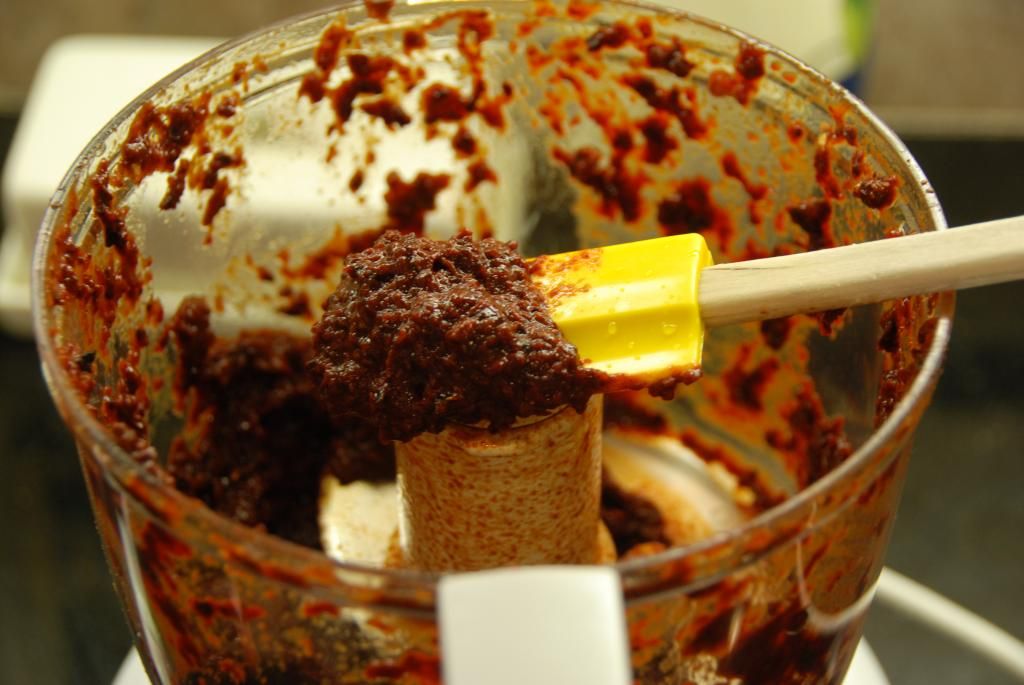 I smeared it all over a brisket (Whole Foods, trimmed to a quarter inch of fat, about 5 pounds) wrapped it in plastic wrap and stuck it in the fridge (on a sheet pan - lest I get the stuff all over the fridge and get murdered by my wife). Tomorrow it goes on the WSM, will post an update with the pictures. I'm hoping this comes out as good as it looks... Wish me luck!