This is a cook from last weekend.
Kofte
is minced meat (usually lamb or beef) mixed with spices and grilled on a flat skewer. It's sometimes also grilled as meatballs on a stick, too. (Sorry about the quality of some of the pics as I had to use my old smartphone.)
For this cook I decided to try something different, too. Here's something I call Greek Salad Relish (aka. Greek Salsa, I guess). This is just a regular Greek salad, but cut into a smaller dice: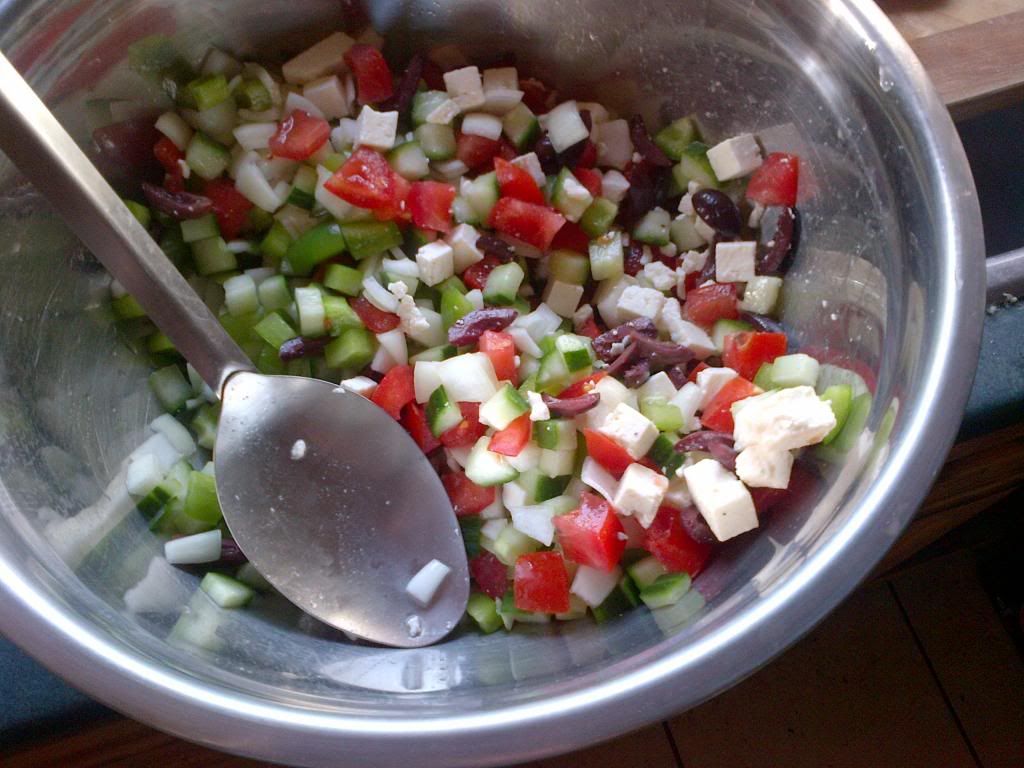 Start with diced onion, peppers, tomatoes, and cucumber, and add sliced Greek (kalamata) olives and diced feta cheese.
Now according to three different Greek restaurant owner/chefs I know, the secret to a fantastic Greek salad is in the freshness and selection of the ingredients, so here are their exact suggestions:
Onions - use red onions
Tomatoes - use Roma tomatoes if possible, seeded but with skins on
Lettuce - leave it out completely
Peppers - green is OK, red Italian ramshorn are the sweetest
Cucumber - English cucumber with the skin on
Olives - only use Greek kalamata olives and oit them yourself (the pre-pitted ones are too soggy and salty)
Feta - Bulgarian sheep feta is the absolute best and that's what these chefs serve to family. According to all of them, "Cow feta is for cooking only (as in spanakopita), and goat feta is for lunch rush customers."
I have to totally agree with them on the above tips, especially the feta. Sheep's milk feta is unbelievably tangy and creamy compared to cow and goat's milk feta.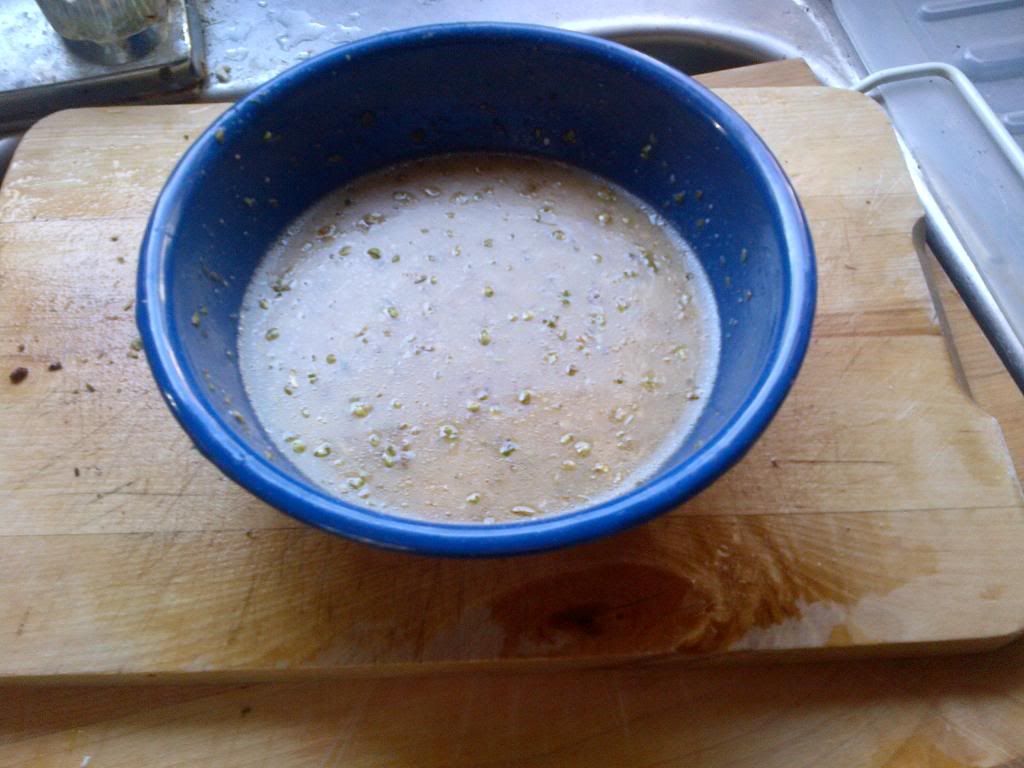 The dressing is a basic vinaigrette of red wine vinegar, fresh lemon juice, olive oil (preferably Greek, of course
), oregano, salt, pepper, and a clove of crushed garlic if desired.
Mix everything together and serve fresh. In this case we'll be using it as a condiment.
The
kofte
themselves are just ground beef or lamb mixed with spices such as salt, pepper, oregano, thyme, sage and such. These ones are just ground beef mixed with McCormick's Greek seasoning.
They cook quickly. I made the slight mistake of individually wrapping them as I didn't have a big enough fridge to hold the platter full of skewers. As a result, the first two were half-done by the time the last two went on the grill so they were well-done.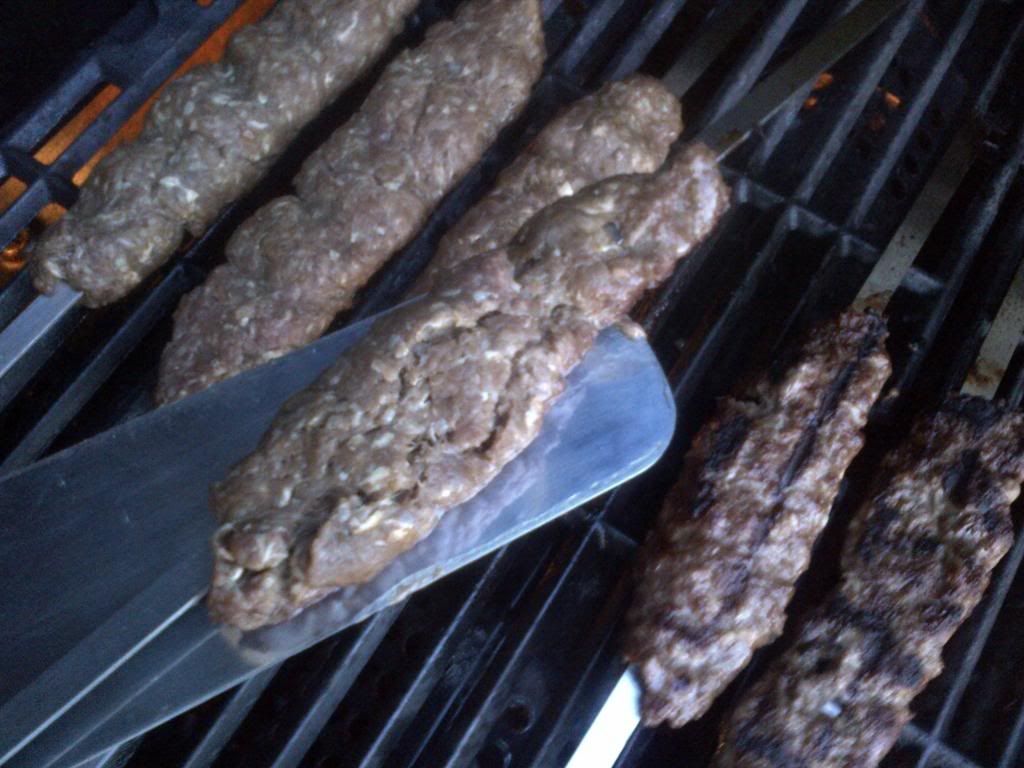 Sometimes ground meat kebabs can stick if you don't have a skewer rack for grateless grilling. So the ridiculously-inexpensive $2 burger spatula makes a great helper.
The mark of a really good kofte are the ridges the cooks put on them with their fingers. Unfortunately, my skewers weren't quite wide enough to get the full treatment. I need to get some extra-wide metal skewers this year.
I'm really happy with this spatula. It's from a restaurant supply house and it's just a $2 basic long burger spatula. This one is 10 years old and has flipped over 6000 burgers at a lot of company picnics.
The pitas go on for only 30 seconds or so per side. More than that and they turn very crunchy. That's great for pita chips but not so great for holding a kebab as the crisp pita gets messy and splits.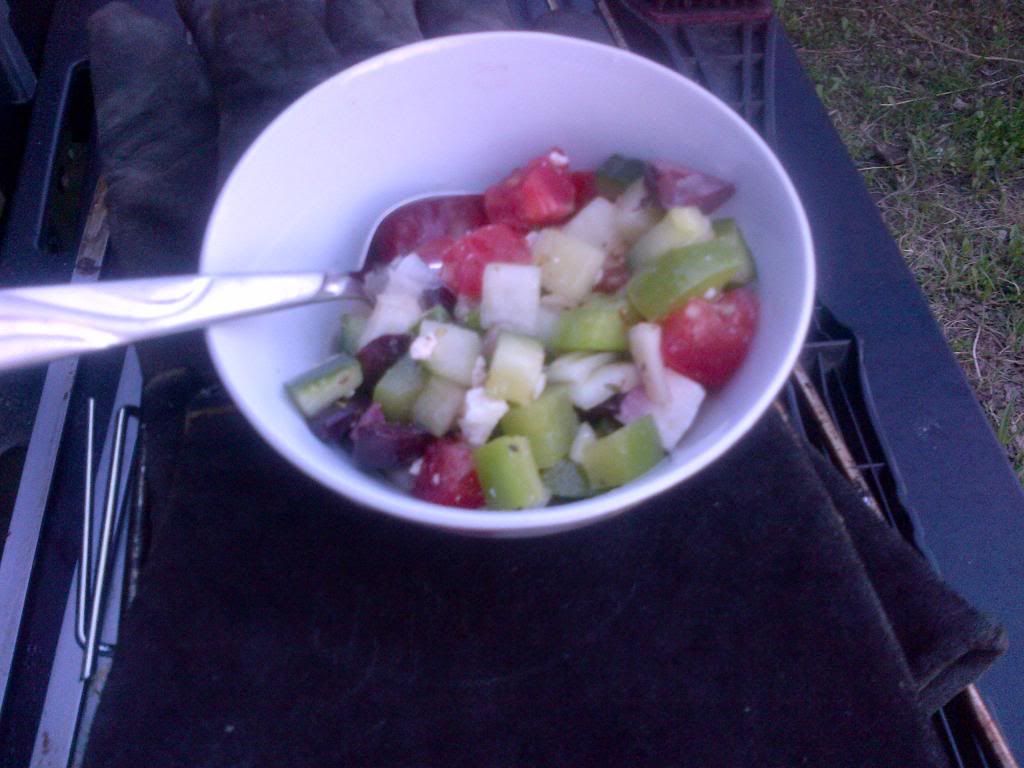 Keep the Greek salad relish close at hand.
Here's another good tip: if you're using skewers like these, keep all of the handles the same way up. That way, you'll know exactly how many times you've turned the kebabs and they won't get overcooked. I've been doing this so long it's just second nature). These kebabs are done....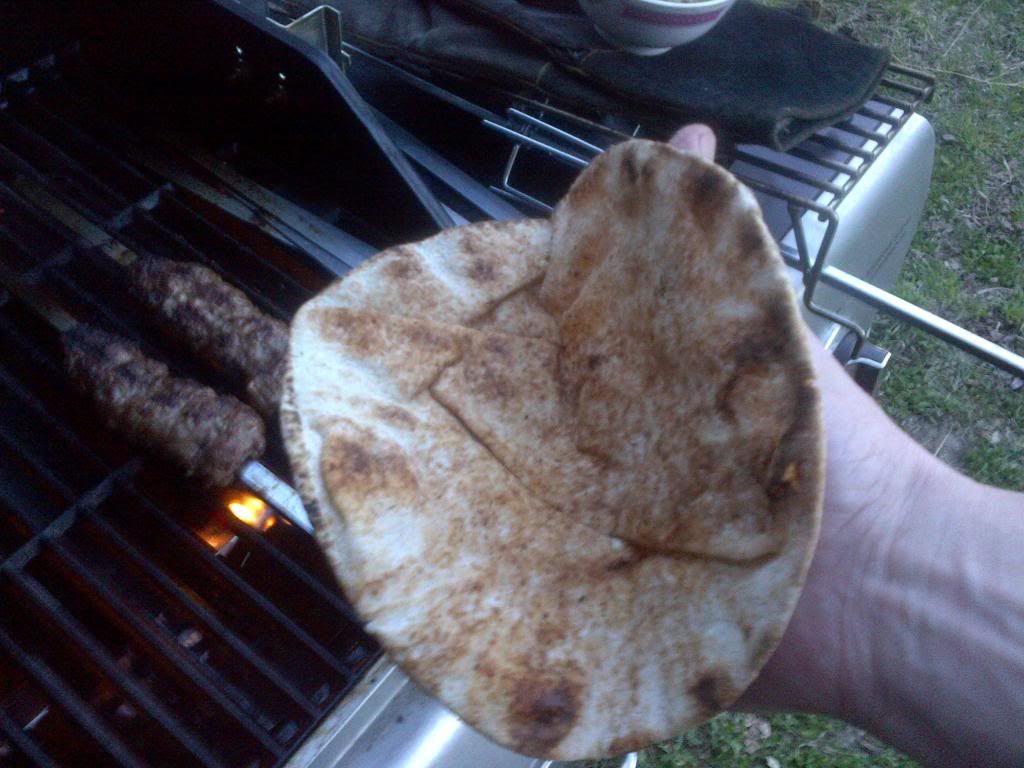 ... so grab the warm pita in one hand...
... and use it to pull the meat off the skewer. The tip of the skewer may be really hot, so you'll hear a satisfying sizzle when the meat comes off the skewer.
Top with the Greek salad relish, and tzatziki sauce if desired, and eat! Unfortunately, I was out of the tzatziki sauce on this cook because I'd forgotten to pick up some Balkan- or Greek-style yogurt.
Even without the tzatziki sauce (which is just yogurt, grated cucumber, salt, pepper, garlic and sometimes, mint) these kebabs were great. They're really simple and worth a try.