I had to think about it yesterday, but finally figured out its been two weeks since I've fired up a grill. Part of that time, I was in Vegas and most of that time Mrs. G was out of town working one show or another (just in the second half of July she worked Atlanta, Chicago, Philly and Vegas to give you an idea). Kind of hard to get motivated to grill when its just yourself and the heat is pushing 100 degrees. Well, yesterday I decided to break that streak/drought. Nothing fancy, mind you, just some hot Italian sausages. Johnsonville this time as I just realized we are totally out of hot Italian sausage. Guess its time to make some more. Anyway, while Mrs. G was getting the Pioneer Woman's pot roast recipe all prepped and ready to go, I poured a lil bourbon and coke and me and the dogs stepped outside to fire up the Mini and get the sausages going.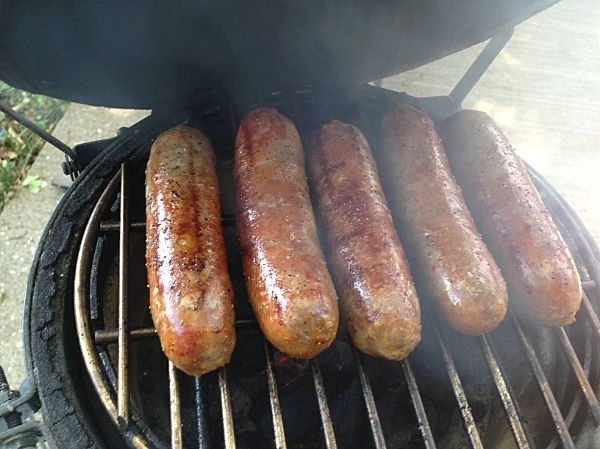 It was hot, and I suffered through it with the help of my cold drink, but a man's gotta do what a man's gotta do.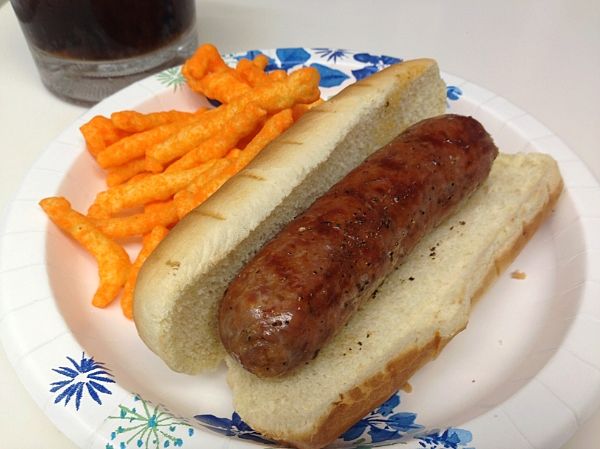 Served it up with on our best China (cuz it was Sunday and who wants to do dishes?) with some Chee-tos and another cold beverage. Let me tell you, it was hard work, but I know feel properly motivated and we've got some leg quarters and some 1.5" thick pork chops that need to be brined and grilled up later this week. I think I can handle it.
As for the Pioneer Woman's pot roast...pretty darn tasty, but I forgot to take pictures. I liked the fact that it didn't use any cream of this or that or the other soup or Lipton soup mix. Just beef broth, red wine and veggies I think. Anyway, gave me a reason to have some wine for dinner. Couldn't let the remainder of that wine go to waste, now could I? Maybe next time I can convince Mrs. G to cook it on the Egg instead of in the oven...