So this past weekend (03/02/14) I decided to some some briskets, I had one frozen and one that was whispering to me..."smoke me.....smoooooke me...." so I did. I havent had time since Christmas to get my smoke on. These were a 19 and 18 lbs prime briskets, so I prepped as normal, trimmed the fat and silver skin off as much as possible, got the points off the flats and put them to bed in foil pans for the night, as I'd inject and rub in the morning while I got the fire up and running.
The next morning I am greeted with a balmy 5 degrees outside with sleet/snow and big Kansas wind. Luckily my BBQ "porch" is protected on 3 sides so wind was not really an issue.....but damn it was cold!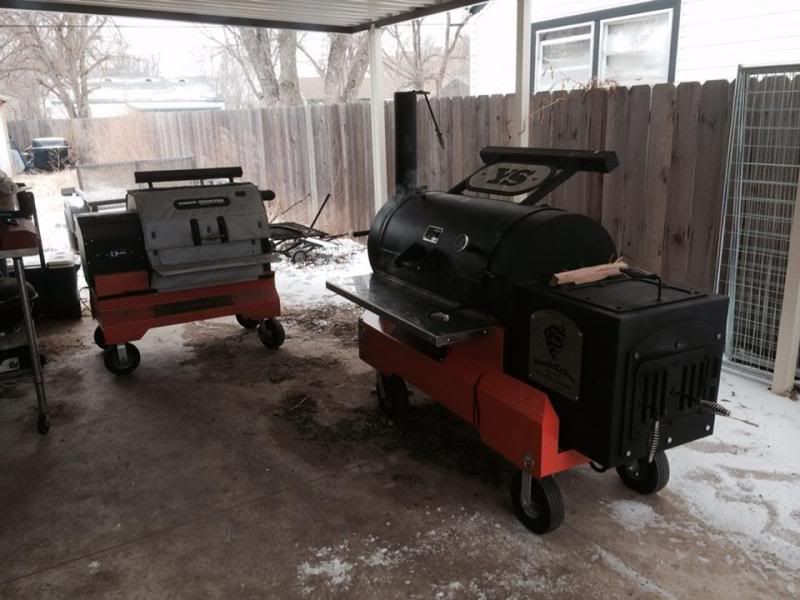 I got the fires lit for the coal base, 4 chimneys of lump. I also fired up the pellet just in case (good thing I did). While the pit is coming up to temp, I went in and injected the briskets (Butchers BBQ Prime Dust and a little worcestershire) and then got some rub on them, one in Plowboys Bovine Bold, one in BPS Money. Points were the same.
Next began a epic 6 hour struggle between me and my fire! Good lord what a fight. Normally my Yoder runs 250 to 300 with little effort on my part other than a good coal base and 1 stick an hour, one stick at 45 mins to the side of the firebox to get right up to ignition temp, and one on top to get "warm". Think assembly line. This one required 1 chimney of lump and 2 sticks every 30 mins and I was barely keeping up. I was alternating 1 stick of Pecan and 1 stick of Oak or 2 sticks of Pecan. It was insane how much fuel I was going thru. Even though my Yoder has a ton of thermal mass, when its 5-7 degrees ambient, the temp swings were not fun to watch. All I kept thinking was "just get it to the foil....all will be good then" because I knew I could foil and get them in the pellet to finish and I was about out of sticks and lump. This was my plan, so when the flats got to the right color and about 150ish temp wise, I wrapped them and the points and put them in the pellet.
The points got done 1st (naturally) so I make burnt ends, and put a light coat of sauce on them then back in the pellet to glaze in....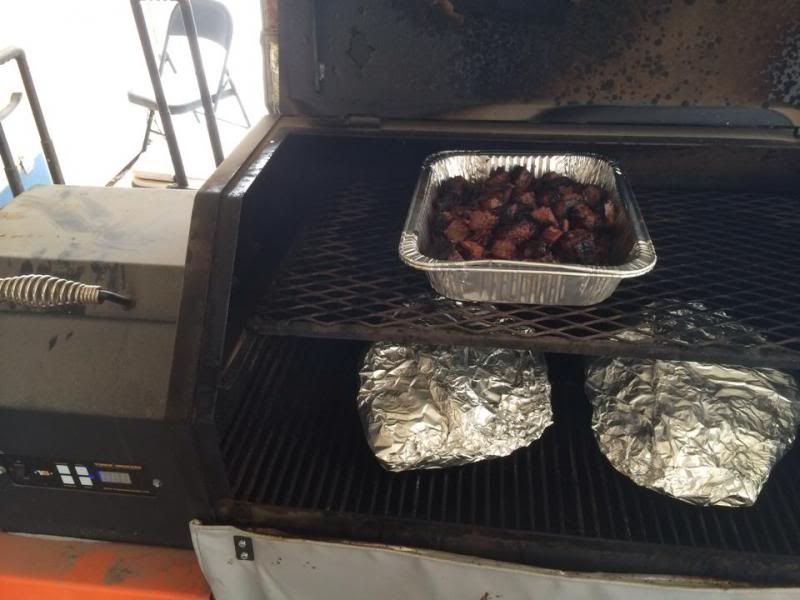 The flats got done (finally!) and I brought them in for slicing.....not looking too bad considering the battle just rendered!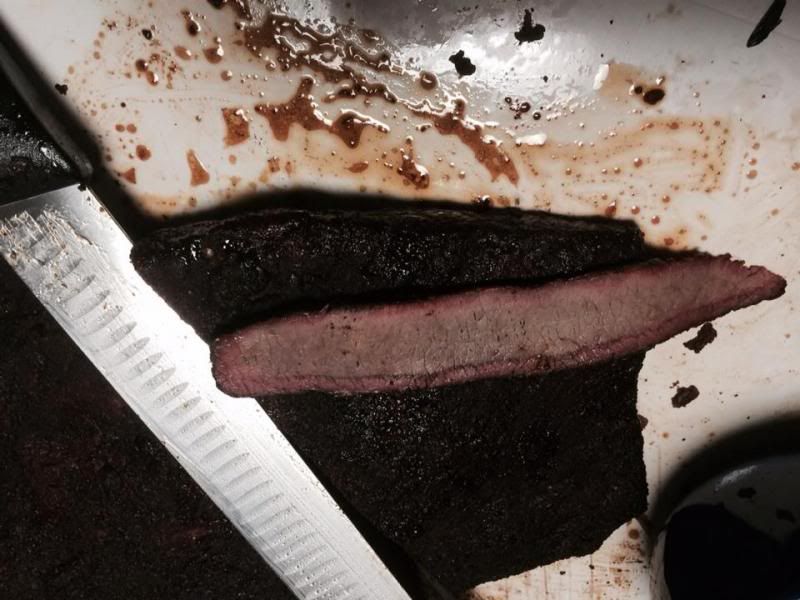 And they passed the bendy over the finger test! Sorry cant do a pull test as my dog sucks at holding the camera stable without shakes and wild swings of where the lens is pointing (Squirrel!)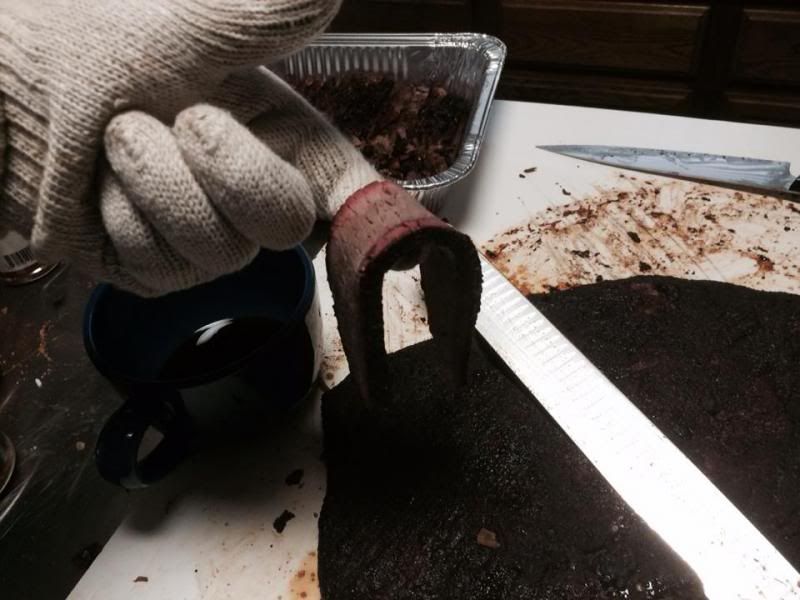 And all packed up for the office and some friends to sample. The office devoured what I took in and my friends.....are still my friends so I guess I did ok.
Hope all your smokes go better than mine. Just remember, when its super cold out.....have lots of fuel!