Asiago-Stuffed Rosemary Rib Roast with Rosemary-Peppercorn Sauce
Steven Raichlen
Print
Asiago-Stuffed Rosemary Rib Roast with Rosemary-Peppercorn Sauce
Recipe Notes
Advance Prep: Time for freezing the cheese
Method: Spit-roasting/rotisserie
Ingredients
1 boneless beef rib roast (3-1/2 to 4 pounds), rolled and tied
4 ounces asiago cheese, cut into 1/4-inch strips
6 cloves garlic, cut into thick slivers
1 bunch rosemary, torn into 1 inch sprigs
Small sprigs of fresh rosemary
Coarse salt (kosher or sea) and freshly ground pepper to taste
Rosemary Peppercorn Sauce for serving
Recipe Steps
Step 1: With a sharp paring knife, make holes at 1-inch intervals all over the roast. Stuff 1/3 of the holes with the asiago, 1/3 with the garlic slivers, and 1/3 with the rosemary sprigs.
Step 2: Generously season the roast with salt and pepper.
Step 3: Set up the rotisserie following the manufacturer's instructions. If using a gas grill, preheat the front and rear burners to high. If using a charcoal grill, light the coals and rake into rows in front and back, leaving a gap in the center. Skewer the roast on the spit. Rotisserie the roast until cooked to medium-rare (about 145°F on an instant-read thermometer; 1-1/4 to 1-1/2 hours on a covered rotisserie. For medium (160°F), cook for 1-1/2 to 2 hours. If using a charcoal grill, replenish the coals as needed.
Step 4: Transfer the roast to a cutting board and let rest for 10 minutes. Cut into thin crosswise slices using an electric knife or sharp carving knife. Serve immediately.
Find This Recipe
And More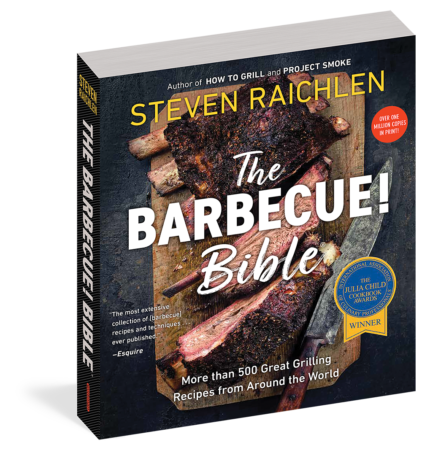 Steven Raichlen's Barbecue! Bible offers the biggest collection of barbecue recipes and grilling recipes ever developed.
Buy Now ‣