Bacon-Crusted Texas Style Brisket
Steven Raichlen
Print
Bacon-Crusted Texas Style Brisket
Recipe Notes
Yield: Serves 10 to 12
Equipment: 6 cups hickory or oak wood chips or chunks, soaked for 1 hour in cold water or beer to cover, then drained; heavy-duty aluminum foil (optional)
Ingredients
For the brisket and rub:
1 trimmed brisket (5 to 6 pounds) with a layer of fat at least 1/4-inch thick
3 tablespoons chili powder
1 tablespoon coarse (kosher or sea) salt
2 teaspoons black pepper
1-1/2 teaspoons brown sugar
1-1/2 teaspoons garlic salt
1-1/2 teaspoons onion powder
1 teaspoon ground cumin
1 teaspoon dried oregano
1/2 to 1 teaspoon cayenne pepper
8 slices of bacon
For the mop sauce:
1 cup distilled white vinegar
1 cup beer
1 tablespoon garlic salt
1 tablespoon brown sugar
1 teaspoon hot red pepper flakes
1 teaspoon black pepper
Recipe Steps
Step 1: Rinse the brisket under cold running water and blot dry with paper towels. Combine all the ingredients for the rub in a small bowl and stir to mix. Rub onto the brisket on all sides. Drape with the bacon. If you have the time, let the brisket stand in the refrigerator, covered, for 4 to 6 hours. Or, smoke the brisket right away.
Step 2: Combine the mop sauce ingredients in a nonreactive bowl and stir until the salt and brown sugar are dissolved.
Step 3: Set up the grill for indirect grilling and preheat to low. If using a gas grill, place all the wood chips in the smoker box or in a smoker pouch and preheat on high until you see smoke, then reduce the heat to low.
Step 4: When ready to cook, if using a charcoal grill, toss 1 cup wood chips on the coals. Place the brisket, fat-side up, in an aluminum foil pan and place in the center of the hot grate, away from the heat, and cover the grill. Grill until the brisket is tender, about 6 to 8 hours (the cooking time will depend on the size of the brisket and the heat of the grill). Baste or mop the brisket with the mop sauce once an hour for the first 4 hours. If using a charcoal grill, you'll need to add 12 fresh coals and 1/2 cup of wood chips per side every hour.
Step 5: If desired, wrap the brisket in heavy-duty aluminum foil for the last 1-1/2 to 2 hours of cooking time to prevent it from drying out.
Step 6: To test for doneness, use an instant-read meat thermometer; the internal temperature should be about 190°F.
Step 7: Transfer the brisket to a cutting board and let rest for 10 minutes. Thinly slice across the grain, using an electric knife or sharp carving knife. Transfer the meat to plates or a platter and pour the pan juices on top.
Find This Recipe
And More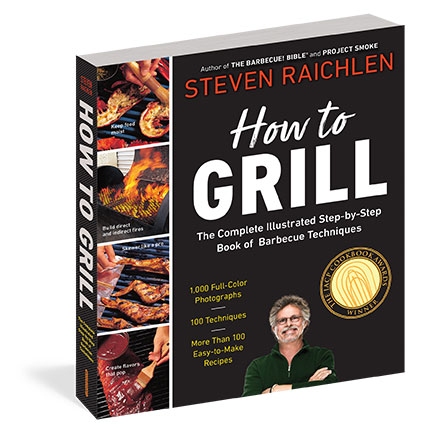 Without a doubt the most interesting, comprehensive, and well-thought-out book on grilling ever and it's destined to be in the kitchens and backyards of both professionals and home cooks. Every detail is made clear and easy in a concise and inspirational way. Spark it up! (Mario Batali, Molto Mario (The Food Network), Mario Batali's Simple […]
Buy Now ‣