Brazilian Rib Roast Stuffed with Chorizo & Cheese with Ember-Roasted Salsa
Steven Raichlen
Print
Brazilian Rib Roast Stuffed with Chorizo & Cheese with Ember-Roasted Salsa
Recipe Notes
Yield: 8 servings
Method: Indirect Grilling
Ingredients
For the beef:
1 beef rib roast (4 to 4.5 pounds)
3 links (each about 3 ounces) cooked chorizo or kielbasa sausage
3 long slender carrots, trimmed and peeled
2 red bell peppers, stemmed, seeded, and cut lengthwise into 1/2 inch-wide strips
3 slices (each 1/4-inch thick; about 6 ounces total) Romano cheese, cut into strips
Ember Roasted Salsa (see Step 7, below)
For the rub:
2 tablespoons sweet paprika
2 teaspoons coarse salt
1 teaspoon ground cumin
1 teaspoon dried oregano
1 teaspoon garlic powder
1 teaspoon black pepper
Recipe Steps
Step 1: Using a long slender carving knife, make a lengthwise cut through the center of the roast. Cut one end off two of the chorizo sausages. Cut both ends off the third chorizo. Insert the chorizos through the slit in the roast, flat ends butted together.
Step 2: Using a sharpening steel (wipe it clean with a paper towel first), make three lengthwise tunnels through the roast around the sausage and insert the carrots, pepper, and cheese strips. You may need to insert more than 1 strip of cheese per tunnel. Cut off the ends of the sausages, carrots, pepper, and cheese, leaving 1/2 inch protruding.
Step 3: Make the rub: Combine the paprika, salt, cumin, oregano, garlic powder, and pepper in a small bowl and stir to mix. Sprinkle the rub all over the roast, rubbing it onto the meat with your fingers. Tie the roast at 2-inch intervals with butcher's string. Let the roast sit while you preheat the grill.
Step 4: Set up the grill for indirect grilling and preheat to medium-high. If using a charcoal grill, place a large drip pan in the center.
Step 5: When ready to cook, place the roast in the center of the grate, away from the heat, over the drip pan. Cover the grill.
Step 6: Indirect grill the roast until crusty and browned and cooked to taste, 1 to 1 1/4 hours for medium-rare (140 degrees on an instant-read meat thermometer). If using charcoal, add 12 fresh coals per side after 1 hour, or as needed.
Step 7: Transfer the roast to a carving board and let rest for 5 minutes. Remove the string and thinly slice the roast crosswise using a sharp carving knife. Serve with the Ember-Roasted Salsa.
Find This Recipe
And More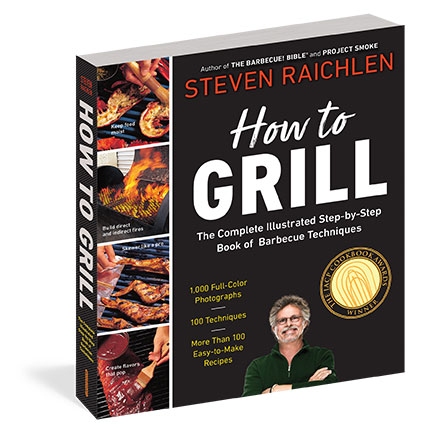 Without a doubt the most interesting, comprehensive, and well-thought-out book on grilling ever and it's destined to be in the …
Buy Now ‣