Brisket on the Bone
Steven Raichlen
Each meaty bone tips the scale at 2 to 2½ pounds. Seasonings? Keep them simple: salt, pepper, and hot red pepper flakes. Focus on the meat and smoke.
More Brisket Recipes:
Print
Brisket on the Bone
Recipe Notes
Yield: Enough to serve 3 really hungry people
Method: Hot-smoking
Equipment: An aluminum foil drip pan; instant-read thermometer; an insulated cooler (optional); wood chips: oak, hickory, or mesquite, or a combination of the three—enough for 10 hours of smoking
Ingredients
3 full beef plate short ribs (rack is 6 to 7½ pounds)
3 tablespoons coarse salt (sea or kosher), plus extra for serving
3 tablespoons cracked black peppercorns
2 tablespoons hot red pepper flakes
Beer (optional)
1 cup beef stock (preferably homemade)
Recipe Steps
Step 1: Place beef rib rack on a rimmed baking sheet. (You may cut rack lengthwise into individual bones first if you prefer.)
Step 2: Place the salt, pepper, and hot red pepper flakes in a small bowl and mix well. Generously sprinkle the rub on the ribs on all sides, including the ends, rubbing it into the meat with your fingertips.
Step 3: Set up your smoker following the manufacturer's instructions and preheat to 225° to 250°F. If your smoker has a water pan, fill it with water or beer to a depth of 3 inches. If it doesn't have a water pan, fill a disposable aluminum foil pan with water or beer to a depth of 3 inches and place it below the rack on which you'll be smoking the ribs. (Note: You don't need to do this on a ceramic cooker.) Add wood as specified by the manufacturer.
Step 4: Place the ribs in the smoker fat side up (with at least 2 inches between ribs if separate). Smoke the ribs until darkly browned on the outside and very tender inside, 8 to 10 hours. If working on a smoker with the firebox at one end, rotate the ribs a couple times so they cook evenly. To test for doneness, insert a metal skewer in the center or the largest rib (through one end and parallel to the bone); it should pierce the meat easily. Another test for doneness is to insert an instant-read thermometer parallel to but not touching the bone; it should read 200°F. (Check the ribs to make sure all are done.) When done, the meat will have shrunk back from the ends of the bones by 1 to 2 inches.
Step 5: Transfer the ribs to a large foil pan with the beef stock. Loosely cover the pan with aluminum foil and place it in an insulated cooler. Let the ribs rest for 1 hour before serving.
Step 6: Just before serving, season with a light sprinkling of salt.
Recipe Tips
You'll need to order beef plate ribs from a butcher. Tell him or her you want full plate short ribs. They come three to a plate.


Find This Recipe
And More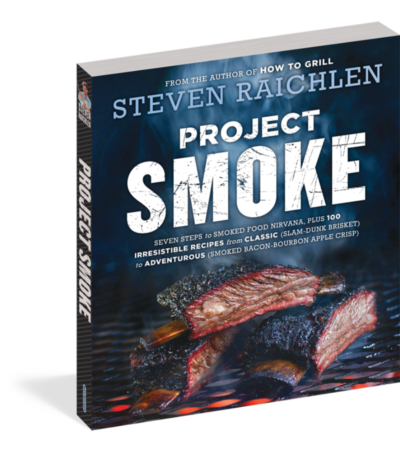 New York Times Bestseller Project Smoke is the How to Grill of smoking, both a complete step-by-step guide to mastering …
Buy Now ‣