Cider and Rum Barbecue Sauce
Steven Raichlen
A sweet, mellow barbecue sauce invigorated with dark rum and apple cider.
Print
Cider and Rum Barbecue Sauce
Recipe Notes
Yield: Makes about 2-1/2 cups
Ingredients
1 cup apple cider
About 1 teaspoon grated lemon zest
Juice of 1 lemon (about 3 tablespoons)
2 cups ketchup
1/2 packed cup brown sugar
1/2 cup dark rum, or more to taste
2 tablespoons molasses
1 tablespoon Worcestershire sauce
2 teaspoons Dijon mustard, or more to taste
1 teaspoon liquid smoke
1 teaspoon onion powder
1/2 teaspoon freshly ground black pepper
Recipe Steps
Step 1: Place the cider, lemon zest, and lemon juice in a large, heavy saucepan and let it come to a boil over high heat. Let the cider mixture boil until reduced by about half, 4 to 6 minutes.
Step 2: Add the ketchup, brown sugar, rum, molasses, Worcestershire sauce, mustard, liquid smoke, onion powder, and pepper and whisk to mix. Reduce the heat to medium and let the sauce simmer until thick and flavorful, 10 to 15 minutes, stirring occasionally. Taste for seasoning , adding more rum and/or mustard as necessary.
Step 3: Transfer the sauce to a bowl or clean jars and let it cool to room temperature. Refrigerate the sauce until serving. It will keep covered in the refrigerator for 3 weeks. Reheat it over low heat before using.
Recipe Tips
Find This Recipe
And More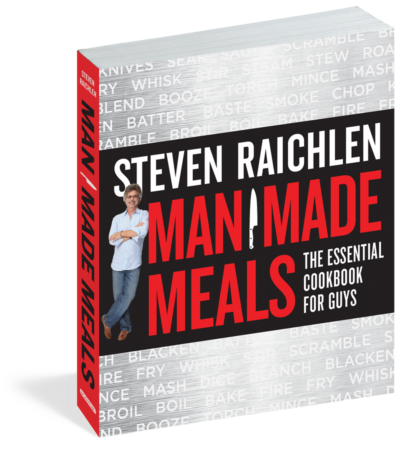 Man Made Meals is about the tools and techniques (guess what, grillers, you still get to play with knives and fire.) It's about adopting secrets from the pros—how to multitask, prep before you start cooking, clean as you go. It's about understanding flavor and flavor boosters, like anchovies and miso, and it's about essentials: how to […]
Buy Now ‣