The "Dear" Dog
Steven Raichlen
Grill master Steven Raichlen would tell you that his "dear" dog recipe is the world's best hot dog. Give the recipe a try and decide for yourself.
More Hot Dog and Sausage Recipes:
Print
The "Dear" Dog
Recipe Notes
Ingredients
8 hot dogs
8 thin slices of mortadella or bologna
8 hot dog buns, split lengthwise, cut sides lightly buttered
Spicy brown mustard, Dijon mustard, or horseradish mustard
About 2 cups drained sauerkraut
Dill pickle slices, sweet pickle slices, or pickled jalapeños
Recipe Steps
Step 1: Set up the grill for direct grilling and preheat to high. Brush and oil the grill grate.
Step 2: Carefully slice each hot dog almost in half lengthwise, cutting to but not through the bottom casing. Gently open up the hot dogs as you would a book so that they lay flat.
Step 3: Arrange the hot dogs on the grill grate on the diagonal to the bars of the grate, cut sides down. Grill, turning once with tongs, until cooked through, about 3 minutes per side.
Step 4: Grill the mortadella for about 1 minute per side. Grill the hot dog buns, cut sides down, until lightly toasted, 1 to 2 minutes.
Step 5: To serve, slather each bun with mustard. Place a slice of mortadella in each bun, then add a hot dog. Top with sauerkraut and pickle slices. Wherever you are, Dear, I hope you're enjoying this.
Recipe Tips
Try more hot dog recipes:
Find This Recipe
And More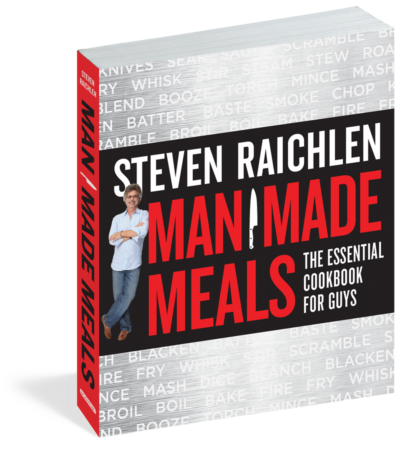 Man Made Meals is about the tools and techniques (guess what, grillers, you still get to play with knives and fire.) It's about adopting secrets from the pros—how to multitask, prep before you start cooking, clean as you go. It's about understanding flavor and flavor boosters, like anchovies and miso, and it's about essentials: how to […]
Buy Now ‣