Grilled Chicken Wings with Hong Kong Spices (Shek O Wings)
Steven Raichlen
Grilling normally plays a minor role in Chinese cuisine, but the Sunday crowds transform Shek O beaches into barbecue central. Vendors do a lively business in charcoal and grilling utensils. The grills themselves are ingenious fabrications of chicken wire and rebar (the ribbed metal bars used for reinforcing concrete). The most popular food for grilling is chicken wings, which are marinated in soy sauce and honey.
Print
Grilled Chicken Wings with Hong Kong Spices (Shek O Wings)
Recipe Notes
Advance Prep: 6 to 24 hours for marinating the chicken wings
Yield: Makes 12 wings
Equipment: 12 long bamboo skewers and an aluminum foil shield
Ingredients
12 whole chicken wings (2-1/2 to 3 pounds)
1/2 cup soy sauce
1/3 cup honey
1 tablespoon minced peeled fresh ginger
3 cloves garlic, minced
3 scallions, both white and green parts, trimmed and very finely chopped
2 teaspoons Chinese five-spice powder
Recipe Steps
Step 1: Rinse the chicken wings under cold running water, then drain and blot dry with paper towels. Make two or three deep slashes, to the bone, in the meaty part of each wing. Set the wings aside while you prepare the marinade.
Step 2: Combine the soy sauce, honey, ginger, garlic, scallions, and five-spice powder in a large bowl and whisk until well combined. Set aside about half the marinade in a small bowl and cover and refrigerate it until you are ready to grill. Add the wings to the remaining marinade and turn to coat thoroughly. Cover the wings and let marinate, in the refrigerator, for at least 6 hours but preferably 24, turning the wings occasionally.
Step 3: Set up the grill for direct grilling and preheat to medium-high.
Step 4: When ready to cook, drain the chicken wings, then thread each wing on a skewer, running the skewer through all three sections to hold the wing open as wide as possible.
Step 5: Brush and oil the grill grate. Arrange the wings on the hot grate with the aluminum foil shield under the ends of the skewers. Grill, turning with tongs, until the thicker wing sections are no longer pink near the bone, 12 to 16 minutes in all, brushing the wings with the reserved marinade as they cook. Reduce the heat if the wings start to burn. Don't baste the wings during the last 3 minutes of grilling. Transfer the grilled wings to a serving platter and serve at once.
Recipe Tips
Switch up the flavor of your wings:
Find This Recipe
And More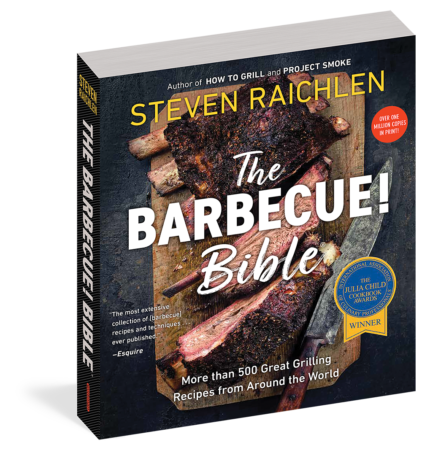 Steven Raichlen's Barbecue! Bible offers the biggest collection of barbecue recipes and grilling recipes ever developed.
Buy Now ‣