Grilled Eggplant Dip
Steven Raichlen
Print
Grilled Eggplant Dip
Recipe Notes
Yield: Makes about 2 cups; 6 to 8 servings
Method: Direct
Ingredients
2 long, slender eggplants (about 1 pound each)
6 garlic cloves, each cut into 3 to 4 lengthwise wedges
3 tablespoons tahini
3 tablespoons extra-virgin olive oil
2 tablespoons fresh lemon juice, or more to taste
1/2 teaspoon coarse salt (kosher or sea), or more to taste
1/2 teaspoon black pepper, or more to taste, plus lemon wedges for serving
3 tablespoons minced fresh flat-leaf parsley
Hot paprika
Grilled pita bread, for serving
Lemon wedges for serving
Recipe Steps
Step 1: Set up a charcoal grill for direct grilling and preheat to high.
Step 2: When ready to cook, prick the eggplants in a few spots with a fork. Place them directly in the embers and grill until the skins are charred all over and the flesh is very soft, 5 to 8 minutes per side (20 to 32 minutes in all). Transfer the grilled eggplants to a plate to cool.
Step 3: Scrape any really burnt skin off the eggplants, but leave some of it on; the dark spots will add color and character. Coarsely puree the eggplants and garlic in a food processor (or chop them by hand or mash them with a fork). Add the tahini, if using, 2 tablespoons of the olive oil, the lemon juice, salt, and pepper and pulse just to mix. Add the parsley and process in short bursts, just to mix (overprocessing will turn the dip green). Taste for seasoning, adding more salt, pepper, and/or lemon juice as necessary; the dip should be very flavorful. Transfer the dip to a shallow nonreactive bowl, drizzle with the remaining 1 tablespoon of oil, and sprinkle with paprika. Serve with lemon wedges and grilled pita bread.
Find This Recipe
And More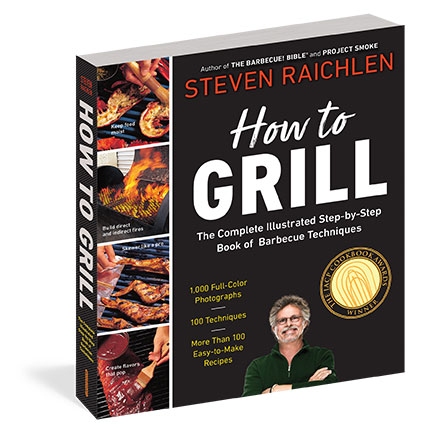 Without a doubt the most interesting, comprehensive, and well-thought-out book on grilling ever and it's destined to be in the …
Buy Now ‣