Grilled Pork Chop "Calzones"
Steven Raichlen
Print
Grilled Pork Chop "Calzones"
Recipe Notes
Yield: Serves 4
Equipment: 8 wooden toothpicks, oiled with 1 teaspoon vegetable oil, for skewering the meat
Ingredients
4 thick boneless loin pork chops (each 3/4 to 1 inch thick; about 8 ounces each)
8 fresh basil leaves
2 ounces thinly sliced pepperoni
2 ounces thinly sliced smoked ham or prosciutto
2 ounces thinly sliced Provolone cheese
Coarse salt and black pepper
8 fresh sage leaves
2 tablespoons olive or walnut oil
Recipe Steps
Step 1: Place the chop on a cutting board, rounded side facing out. Holding a sharp, slender knife parallel to the board and holding the chop flat with your free hand, insert the knife in the side and cut a deep pocket. Stuff the chop with 2 basil leaves and a quarter of the pepperoni, smoked ham, and cheese. Pin the pocket shut with 2 oiled toothpicks. Prepare and stuff the remaining chops the same way.
Step 2: Set up the grill for direct grilling and preheat to high.
Step 3: Meanwhile, season the stuffed chops on both sides with salt and pepper. Arrange the chops in a baking dish, placing a sage leaf underneath and another on top of each one. Drizzle the oil over the chops, patting it on with your fingertips. Let marinate until the grill is ready.
Step 4: When ready to cook, brush and oil the grill grate. Arrange the pork chops on the hot grate and grill until cooked through (160°F on an instant-read meat thermometer), 4 to 7 minutes per side, rotating the chops 90 degrees after 2 minutes to create an attractive crosshatch of grill marks. Transfer the chops to plates or a platter and let rest for 3 minutes, then remove the toothpicks and serve at once.
Recipe Tips
Find This Recipe
And More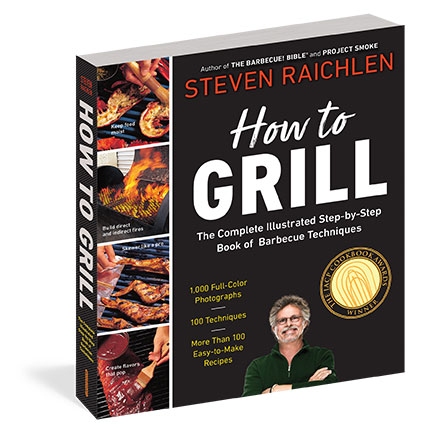 Without a doubt the most interesting, comprehensive, and well-thought-out book on grilling ever and it's destined to be in the …
Buy Now ‣