Grilled Shrimp with Deconstructed Pesto After-Marinade
Steven Raichlen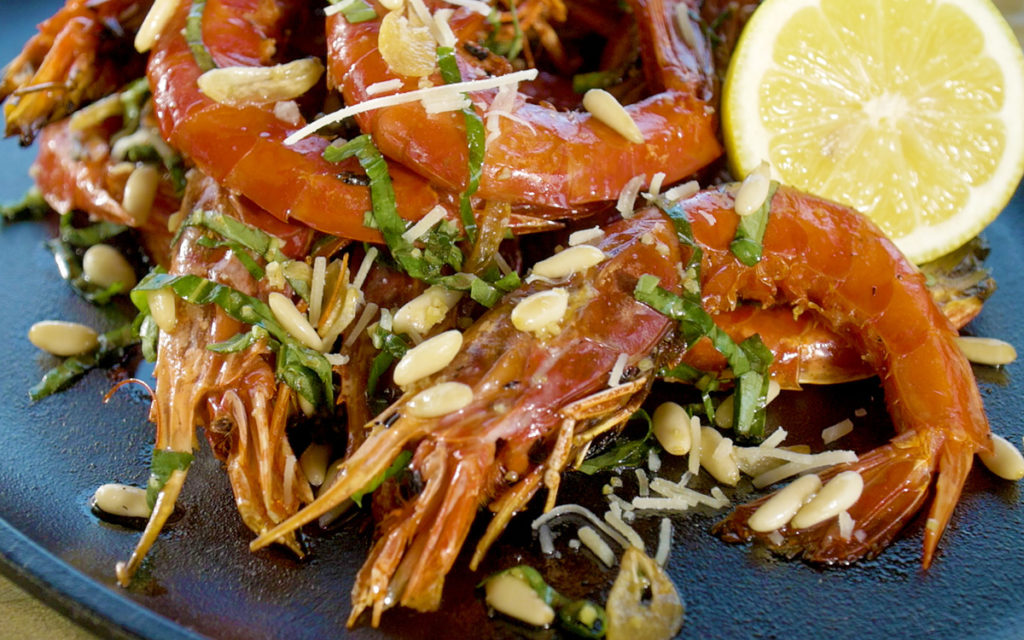 This dish pays homage to one of Steven Raichlen's barbecue heroes, Chris Schlesinger. Chris had the idea to do a deconstructed marinade. Shrimp (or other protein) is grilled simply, then tossed in the deconstructed pesto marinade made of fresh basil, garlic, pine nuts, lemon, olive oil, and cheese. If you're used to conventional pesto, this deconstructed version will blow you away with its bright, explosive flavors.
More Grilled Shrimp Recipes:
Print
Grilled Shrimp with Deconstructed Pesto After-Marinade
Recipe Notes
Ingredients
2 pounds jumbo shrimp or prawns, shell-on, or peeled and deveined
Coarse sea salt and freshly ground black pepper
Hot pepper flakes (optional)
2 tablespoons extra virgin olive oil
For the Deconstructed Pesto After-Marinade:
1/4 cup plus 3 tablespoons extra virgin olive oil
1/4 cup pine nuts
3 cloves garlic, thinly sliced
The finely grated zest and juice of 1 lemon
1 cup fresh basil leaves
1 cup (about 4 ounces) freshly grated Parmigiano-Reggiano cheese
Sea salt and freshly ground black pepper to taste
Recipe Steps
Step 1: Generously season the shrimp on all sides with salt, pepper, and hot pepper flakes, if using. Toss with the olive oil. If grilling large shrimp, you can arrange them directly on the grill. For smaller shrimp, use a grill grid or grilling basket, or thread them on bamboo or metal skewers. (It's easier to turn 5 kebabs on the grill than it is 30 small shrimp.)
Step 2: Prepare the Deconstructed Pesto After-Marinade. Place half the olive oil (1/4 cup) in a small saucepan and heat over a medium flame. Add the pine nuts and garlic and fry until golden, 2 minutes. Do not let the garlic chips burn. Pour the mixture into a large heatproof mixing bowl. Stir in the lemon zest and juice. Have the cheese in a small bowl. Right before serving, stack and roll the basil leaves (work in batches), and thinly slice crosswise into 1/4-inch wide ribbons.
Step 3: Set up your grill for direct grilling and heat to high. Brush and oil your grill grate.
Step 4: Arrange the shrimp on the grate and grill until sizzling and browned on the outside and cooked through, about 2 minutes per side.
Step 5: Stir the hot shrimp into the pine nut-garlic-lemon mixture in the large bowl and toss to mix. Add the slivered basil and toss. Stir in the remaining 3 tablespoons olive oil. Transfer the hot shrimp to a platter or plates and sprinkle with the cheese.
Recipe Tips
Our thanks to the sponsors of Project Smoke Season 3:


Steven Raichlen's Project Smoke is a production of Maryland Public Television, Barbacoa, Inc., and Resolution Pictures. © 2017 Barbacoa, Inc.
Find This Recipe
And More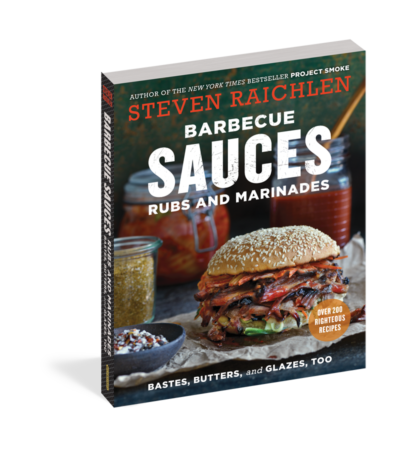 Barbecue sauces, rubs, and marinades are every griller's secret weapon—the flavor boosters that give grilled food its character, personality, depth, …
Buy Now ‣