Grilled And Smoked Mushroom Bread Pudding
Steven Raichlen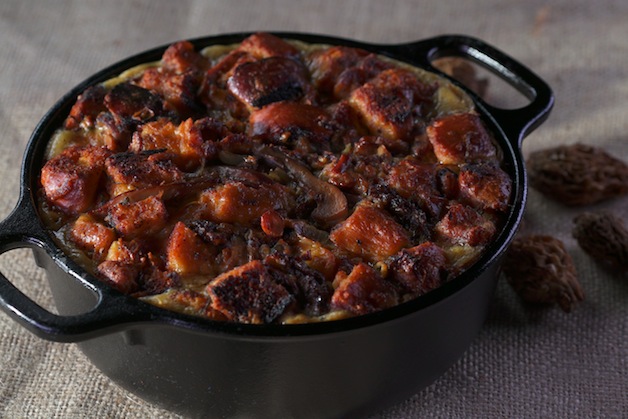 Print
Grilled And Smoked Mushroom Bread Pudding
Recipe Notes
Yield: Serves 8 to 12
Method: Hot smoking
Equipment: Wood chips (soaked for 30 minutes in water, then drained) or chunks
Ingredients
1 loaf brioche, cut into 1-inch thick slices
For the mushroom hash:
12 ounces mixed mushrooms
3 shallots or 1 medium onion, finely chopped
2 tablespoons butter, plus 2 tablespoons at the end (plus butter for the skillet)
8 sage leaves, thinly slivered
Sea salt and freshly ground black pepper to taste
For the custard:
6 eggs
3 cups half and half
Recipe Steps
Step 1: Set up your grill for direct grilling and preheat to medium high. Grill the brioche slices until browned on both sides, 1 to 2 minutes per side. Let cool on a wire rack.
Step 2: Meanwhile, make the mushroom hash: Trim ends off the mushroom stems. Wipe the mushrooms clean with a damp paper towel and thinly slice. Melt 2 tablespoons butter in a large skillet (preferably the 12-inch skillet in which you'll cook the pudding). Add the shallots and cook over medium heat until lightly browned, 3 minutes. Add the mushrooms and sage and cook over high heat until the mushroom liquid evaporates and the hash is lightly browned.
Step 3: Place the eggs in a large mixing bowl and beat until smooth. Beat in the half and half. Stir in the mushroom hash, followed by the bread cubes. Correct the seasoning, adding salt and pepper to taste: the mixture should be highly seasoned. Re-grease the skillet and spoon the pudding into it.
Step 4: Set up your grill for indirect grilling and preheat to 350 degrees. Add wood chips or chunks to the fire.
Step 5: Smoke-roast the pudding until browned on top and cooked through, about 45 minutes. To test for doneness, insert a metal skewer—it should come out clean.
Step 6: Let cool for 5 minutes, then dig in.
Recipe Tips
Our thanks to the sponsors of Project Smoke Season 3:


Steven Raichlen's Project Smoke is a production of Maryland Public Television, Barbacoa, Inc., and Resolution Pictures. © 2017 Barbacoa, Inc.