Jerk Chicken in the Style of Yallahs
Steven Raichlen
Print
Jerk Chicken in the Style of Yallahs
Recipe Notes
Advance Prep: 4 hours to overnight for marinating the chicken
Yield: 4 to 6 servings
Method: Direct Grilling
Ingredients
2 pounds bone-in chicken legs, rinsed and blotted dry
1 bunch scallions, trimmed, both white and green parts coarsely chopped
2 shallots, coarsely chopped
3 cloves garlic, coarsely chopped
1 to 2 Scotch bonnet chiles or habañero peppers, seeded (for hotter chicken, leave the seeds in)
1 teaspoon fresh thyme or 1/2 teaspoon dried thyme
1 1/2 teaspoons coarse salt (kosher or sea)
1 teaspoon freshly ground black pepper
1/2 teaspoon ground allspice
1/4 cup vegetable oil or water, or more as needed
Hellfire Hot Sauce(optional)
Recipe Steps
Step 1: Place the scallions, shallots, garlic, Scotch bonnet(s), thyme, salt, pepper, and allspice in a food processor fitted with a chopping blade and puree to a smooth paste, running the machine in bursts. Add enough oil or water to obtain a pourable consistency.
Step 2: Pour the marinade over the chicken legs, turning them to coat all over. Let the chicken marinate in the refrigerator, covered, for at least 4 hours or as long as overnight. Turn the legs several times so they marinate evenly.
Step 3: Set up the grill for direct grilling and preheat it to medium. Leave one section of the grill bare for a safety zone.
Step 4: When ready to cook, brush and oil the grill grate. Drain the chicken legs well, discarding the marinade. Arrange the chicken legs skin side down on the hot grate and grill them until they are nicely browned and cooked through, 6 to 10 minutes per side, turning with tongs. If the chicken skin or meat starts to burn or you get flare-ups, move the chicken to the safety zone. When cooked, the meat at the bone will have lost all traces of pink: Make a tiny slit with the tip of a knife to check it.
Step 5: To serve, place the chicken on a chopping block or substantial cutting board, and using a cleaver, hack the chicken meat into bite-size pieces.
Find This Recipe
And More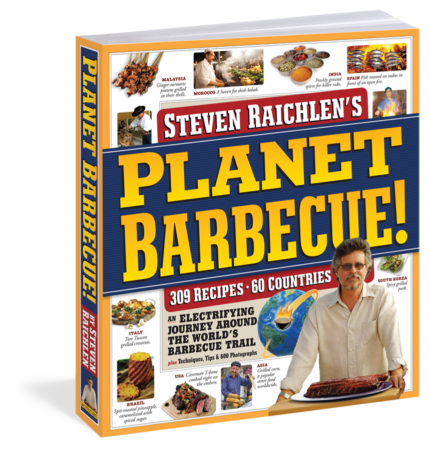 The most ambitious book yet by America's bestselling, award-winning grill expert whose Barbecue! Bible books have over 4 million copies in print. Setting out—again—on the barbecue trail four years ago, Steven Raichlen visited 60 countries—yes, 60 countries—and collected 309 of the tastiest, most tantalizing, easy-to-make, and guaranteed-to-wow recipes from every corner of the globe. Welcome […]
Buy Now ‣