Jerk Seasoning
Steven Raichlen
Print
Jerk Seasoning
Ingredients
For the spice mix:
2 tablespoons imported Jamaican pimento berries or allspice
2 tablespoons black peppercorns
1 cinnamon stick, broken into pieces or 2 teaspoons ground
1 whole nutmeg or 2 teaspoons ground
6 dried pimento leaves or 2 bay leaves, crumbled
To finish the jerk paste:
2 to 8 scotch bonnet or habanero chiles, stemmed
2 bunches of scallions, trimmed
3 cloves garlic, peeled
1 1-inch piece of fresh ginger, scrubbed
2 tablespoons fresh thyme leaves (strip them off the branches) or 1 teaspoon dried
1/4 cup soy sauce
1/4 cup extra virgin olive oil
1/4 cup distilled white vinegar
1/4 cup dark rum
2 tablespoons freshly squeezed lime juice
1 tablespoon molasses or brown sugar
1 teaspoon salt
1 teaspoon pepper
Recipe Steps
Step 1: Make the spice mix: Place the pimento berries, peppercorns, cinnamon, nutmeg, and pimento leaves (or bay leaves) in a spice mill and grind to a fine powder. You may need to work in several batches.
Step 2: Finish the jerk paste: Cut the scotch bonnets in half. For milder jerk chicken, seed them; for more fiery jerk remove the seeds. (Wear rubber gloves.) Cut the scallions crosswise into 1 inch pieces. Rough chop the garlic and ginger. Place the chiles, scallions, garlic, ginger, thyme, and the ground spices in a food processor and finely chop. Add the soy sauce, olive oil, vinegar, rum, lime juice, molasses, and salt and pepper and process to form a thick paste.
Find This Recipe
And More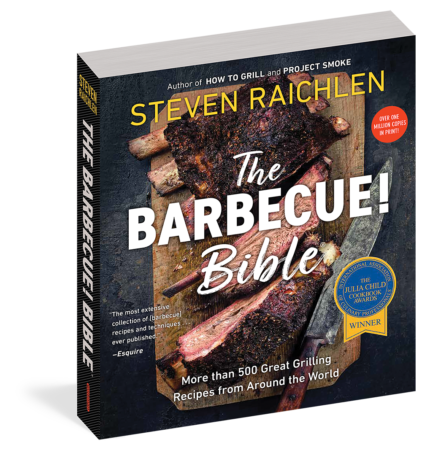 Steven Raichlen's Barbecue! Bible offers the biggest collection of barbecue recipes and grilling recipes ever developed.
Buy Now ‣