Lechon Asado (Cuban Christmas Eve "Pig")
Steven Raichlen
Pit-roasted pig is the traditional centerpiece of a Cuban Nochebuena, or Christmas Eve supper, a holiday that stirs the same sort of emotions—and digestive juices—in a Cuban heart that Thanksgiving does in ours. Come Christmas Eve day in Miami, the sky fills with fragrant smoke, as thousands of backyard barbecue buffs—everyone from bricklayers to bankers—cook whole young pigs that have been marinating overnight in tangy adobo, a garlic-sour orange marinade flavored with cumin and oregano. This recipe calls for a cut of meat of a more manageable size, a fresh (uncured) ham, which has the advantage of being both more widely available than a whole pig and able to fit in your refrigerator.
Print
Lechon Asado (Cuban Christmas Eve "Pig")
Recipe Notes
Advance Prep: 8 to 24 hours for marinating the meat; also, allow yourself 6 to 8 hours cooking time
Yield: Serves 16 to 20
Ingredients
1 whole fresh ham (18 to 20 pounds)
2 heads garlic, broken into cloves and peeled
2 tablespoons coarse salt (kosher or sea)
1 tablespoon dried oregano
1 tablespoon ground cumin
1 tablespoon freshly ground black pepper
2 cups fresh sour orange juice, or 1½ cups fresh lime juice plus ½ cup fresh regular orange juice
¼ cup extra-virgin olive oil
1 cup dry sherry
2 large onions, thinly sliced
4 bay leaves
3 cups (2 batches) Cuban Mojo
Recipe Steps
Step 1: Using the tip of a sharp paring knife, make ½-inch deep slits in both the skin and meat sides of the ham, spacing them about 1½ inches apart. Set the ham aside while you prepare the marinade.
Step 2: Combine the garlic, salt, oregano, cumin, and pepper in a mortar and pound to a smooth paste with a pestle, then work in 1 cup of the sour orange juice and the olive oil. If you don't have a mortar and pestle, puree all of these ingredients in a food processor or blender. Rub the marinade all over the ham, forcing it into the slits. Place the ham in a large container and add the remaining 1 cup of sour orange juice and the sherry, onions, and bay leaves. Let the ham marinate overnight or even up to 24 hours, turning it several times.
Step 3: Set up the grill for indirect grilling, place a drip pan in the center, and preheat the grill to medium.
Step 4: When ready to cook, place the ham, meat side down, on the hot grate over the drip pan and cover the grill (discard the marinade). Cook the ham until the skin is well browned and very crisp and the meat is fork-tender. When tested with an instant-read meat thermometer, the internal temperature should register about 190°F (Cubans like their pork more well done than we do). The whole process will take 6 to 7 hours. If the skin begins to brown too much, drape a piece of aluminum foil loosely over it or lower the heat. If using charcoal, you'll need to add 10 to 12 fresh coals to each side every hour.
Step 5: Transfer the ham to a cutting board and let it rest for 15 minutes. Cut the meat off the bone and chop it with a cleaver or thinly slice it (be sure to include a little skin). Splash the meat with the Cuban Mojo and serve at once.
Recipe Tips
You can also prepare a pork shoulder (4 to 6 pounds) or loin (2½ to 3 pounds) the same way. You'd need only half as much marinade, and the cooking time would be 4 to 6 hours for the pork shoulder, 1 to 1½ hours for the loin.
Find This Recipe
And More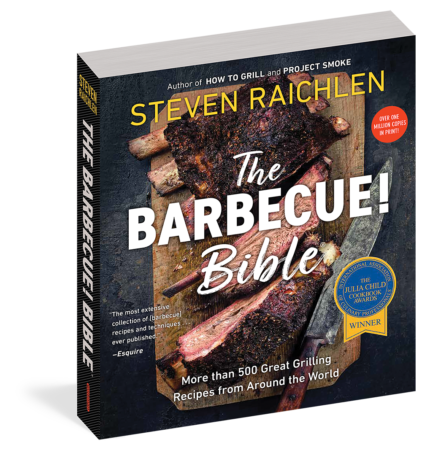 Steven Raichlen's Barbecue! Bible offers the biggest collection of barbecue recipes and grilling recipes ever developed.
Buy Now ‣