Mezcalini
Steven Raichlen
Cross a margarita with a mojito and you get a Mezcalini. Add smoke and you achieve nirvana, not to mention notoriety—especially if you brandish the handheld smoker in front of your guests.
More Grilled and Smoked Drink Recipes:
Print
Mezcalini
Recipe Notes
Yield: Serves 6
Method: Smoking with a handheld smoker
Equipment: Handheld smoker (optional); 1 teaspoon mesquite or oak sawdust, or as needed (optional)
Ingredients
1 cup mezcal
1 cup fresh lime juice (it must be fresh)
¾ cup simple syrup or smoked simple syrup
2 tablespoons Cointreau (or other orange-flavored liqueur)
1 medium-size cucumber, peeled, seeded, and cut into ¼-inch dice (about 1 cup)
1 bunch fresh yerba buena, spearmint, or peppermint, rinsed, shaken dry, and separated into sprigs
½ cup smoked salt (use a good commercial brand or make your own following the instructions here) or kosher salt
1 lime wedge, for moistening the glass rims
6 jumbo ice cubes or 18 to 20 regular or smoked ice cubes
Recipe Steps
Step 1: Combine the mezcal, lime juice, simple syrup, and Cointreau in a pitcher, cover, and refrigerate until serving. You can do this several hours ahead.
Step 2: Just before serving, place the cucumber and yerba buena in a mortar or bowl and lightly crush them with a pestle or muddler. Stir this mixture into the pitcher. If you make the Mezcalini right before serving, you can muddle the cucumber and yerba buena right in the pitcher using a long-handled wooden spoon.
Step 3: Optional—for even more smoke flavor, smoke the Mezcalini with a handheld smoker: Cover the pitcher with plastic wrap, leaving one edge open for the smoker tube. Just before serving, load the smoker with sawdust following the manufacturer's instructions. Insert the tube and fill the pitcher with smoke. Quickly remove the tube, seal the pitcher with plastic wrap, and let stand for 4 minutes. Stir well with a bar spoon and repeat once more.
Step 4: To serve, spread out the smoked salt in a shallow bowl. Moisten the rims of 6 large glasses with the lime wedge, then dip them in the salt. Shake off the excess.
Step 5: Place 1 jumbo or 3 to 4 regular-size ice cubes in each glass. Pour the Mezcalini into the glasses. Spoon some of the cucumber and yerba buena into each glass, taking care not to drip on the salt.
Recipe Tips
The beauty of jumbo ice cubes is their slow melt, which means less dilution of your drink. Look for molds for spherical and cube ice at bar supply stores or Williams-Sonoma.
Yerba buena ("good herb," literally) is one of the many Mexican wild herbs that go into mole verde and other green sauces. It has a distinctive, pungent, mild anisy flavor, like a cross between spearmint and Thai basil. Look for it at Mexican markets. Spearmint or peppermint makes a reasonable approximation.

Find This Recipe
And More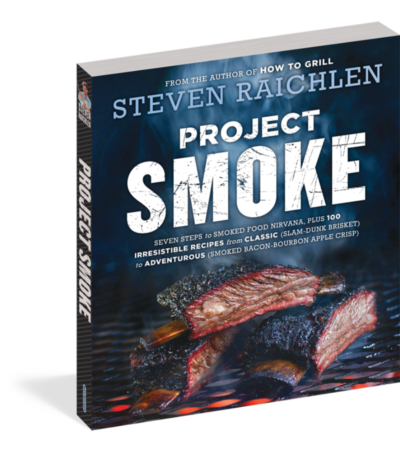 New York Times Bestseller Project Smoke is the How to Grill of smoking, both a complete step-by-step guide to mastering …
Buy Now ‣