Morton Bay Bugs with Ginger-Mint Butter
Steven Raichlen
Print
Morton Bay Bugs with Ginger-Mint Butter
Recipe Notes
Ingredients
4 lobster tails (8 to 9 ounces each), thawed if frozen, or 4 live Maine lobsters (1-1/4 to 1-1/2 pounds)
8 tablespoons (1 stick) butter
2 tablespoons chopped fresh mint or 1-1/2 teaspoons dried
1 tablespoon minced fresh ginger
1 clove garlic, minced
1 teaspoon grated lime zest
3 tablespoons Asian fish sauce or soy sauce
2 tablespoons fresh lime juice
Salt and freshly ground black pepper, to taste
Recipe Steps
Step 1: Preheat the grill to high.
Step 2: If using lobster tails, cut them in half lengthwise with kitchen scissors or a sharp, heavy knife; use a fork to remove the intestinal vein running the length of the tail. If using live lobsters, kill each by inserting a sharp knife in the back of the head between the eyes; this will dispatch them instantly. (Alternatively, bring 8 quarts of water to a boil in a large pot with a lid. Add the lobsters, cover the pot tightly, and boil for 2 minutes. Using tongs, transfer the lobsters to a platter and let cool. Then cut in half and grill as directed.)
Step 3: Cut the lobsters in half lengthwise and remove the vein and the papery gray sac from the head. Break off the claws and crack with a nutcracker. Set the lobsters or tails aside while you prepare the ginger-mint butter.
Step 4: Melt the butter in a small, heavy saucepan over low heat. Add the mint, ginger, garlic, and lime zest and increase the heat to medium. Cook until the mixture is fragrant, but not brown, about 3 minutes. Stir in the fish sauce and lime juice and bring to a boil; then remove from the heat.
Step 5: Brush the cut sides of the lobster tails or lobsters with the ginger-mint butter and sprinkle with salt and pepper.
Step 6: When ready to cook, oil the grill grate. Arrange the lobster halves or tails and claws (if any) cut sides down on the hot grate and grill for 6 to 8 minutes. Turn, using tongs, and grill on the shell sides until the flesh is firm and white, 6 to 8 minutes more, brushing generously several times with the butter as the lobsters cook.
Step 7: Transfer the lobsters to serving plates or a platter and pour any remaining butter over them. Serve immediately.
Find This Recipe
And More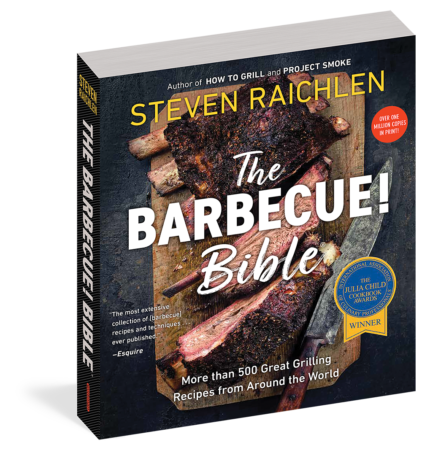 Steven Raichlen's Barbecue! Bible offers the biggest collection of barbecue recipes and grilling recipes ever developed.
Buy Now ‣