Persian Smoked Eggplant Dip with Fried Mint
Steven Raichlen
Print
Persian Smoked Eggplant Dip with Fried Mint
Recipe Notes
Yield: Serves 6 to 8 as an appetizer
Method: Stovetop smoking
Equipment: Stovetop burner
Ingredients
1 large or 2 small eggplants (about 1 pound)
1/4 cup walnuts, lightly toasted
1 ounce feta cheese or smoked cheddar cheese, crumbled (about 2 tablespoons)
1 tablespoon feta cheese liquid
1 clove garlic, minced
3 tablespoons plain Greek yogurt
2 tablespoons extra virgin olive oil, plus 1 tablespoon for serving
1 teaspoon lemon juice, or to taste
Salt (just a little) and freshly ground black pepper
1 to 2 tablespoons fresh mint leaves
Recipe Steps
Step 1: Set your stovetop burner (either gas, electric, or butane) on high. Place the eggplant on the burner and char it on all sides, 2 to 3 minutes per side. Char the top and bottom, too. When ready, the eggplant should be soft enough inside to be pierced easily with a bamboo skewer. If not, return it to the flame.
Alternatively, preheat the grill to high. Grill the eggplant until charred and black on all sides and very soft in the center, 20 to 30 minutes. (Test for softness by pressing the eggplant with your finger.) Transfer the eggplant to a platter and let cool.
Step 2: Cut the eggplant in half lengthwise and scrape the flesh out of the charred skin with a spoon. Grind the nuts to a coarse powder in a food processor, running the machine in bursts. Add the feta cheese, garlic, and eggplant and puree until smooth. Add the feta cheese liquid, yogurt (or yogurt cheese), 2 tablespoons olive oil, lemon juice, salt, and pepper and puree until smooth. Correct the seasoning, adding salt and pepper to taste: the mixture should be highly seasoned. Transfer the dip to an attractive bowl and make a depression in the center.
Step 3: Heat the remaining 1 tablespoon oil in a small skillet over medium heat. When oil is hot, add the mint and cook until toasted, about 1 minute. Pour the mint and oil over the dip and serve at once, using wedges of pita bread for dipping.
Find This Recipe
And More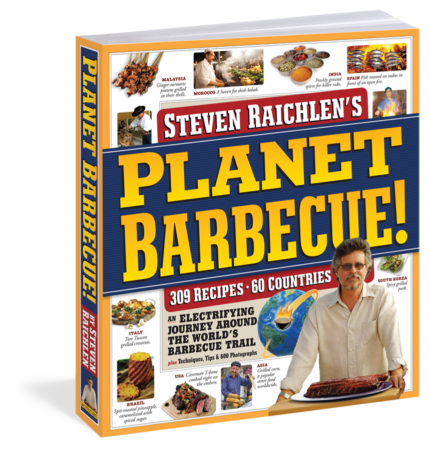 The most ambitious book yet by America's bestselling, award-winning grill expert whose Barbecue! Bible books have over 4 million copies …
Buy Now ‣