Pico de Gallo
Steven Raichlen
Photo by jeffreyw
This simple salsa is a constant on Mexico's culinary landscape. The name changes from region to region (pico de gallo in the north; salsa mexicana in the south), but the basic elements—tomatoes, crisp white onions, and fiery green and red peppers so luscious that eating them is almost carnal—remain the same.
Print
Pico de Gallo
Recipe Notes
Ingredients
2 ripe medium-size tomatoes
1 medium-size or 1⁄2 large white onion
2 to 8 serrano or jalapeño peppers
1/4 cup chopped fresh cilantro
3 tablespoons fresh lime juice, or more if needed
1/2 teaspoon salt, or more if needed
Recipe Steps
Step 1: Cut the tomatoes, onion, and peppers into 1/4-inch dice. (You can soften the bite of the peppers by scraping out the veins and seeds.) Place the tomatoes, onion, and peppers in a serving bowl.
Step 2: Add the cilantro, lime juice, and salt and toss to mix. Taste for seasoning, adding more lime juice and/or salt as necessary.
Recipe Tips
Find This Recipe
And More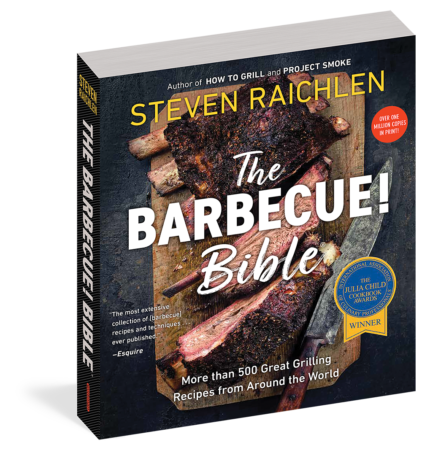 Steven Raichlen's Barbecue! Bible offers the biggest collection of barbecue recipes and grilling recipes ever developed.
Buy Now ‣