The Real Bistecca alla Fiorentina
Steven Raichlen
Porterhouse steak like only the Florentines know how to make it: salted, grilled, and with olive oil optional.
Print
The Real Bistecca alla Fiorentina
Recipe Notes
Yield: Serves 2 to 3
Method: Direct grilling
Ingredients
1 really big porterhouse steak (about 2 inches thick and 2 pounds)
About 1/2 cup rock salt
Recipe Steps
Step 1: Set up the grill for direct grilling and preheat it to medium-high. Ideally, you'll grill over a bed of embers, using natural charcoal lumps.
Step 2: When ready to cook, brush and oil the grill grate. Arrange the steak on the hot grate at a diagonal to the bars. Dump a fistful of rock salt (about 1/4 cup) on top. Grill the steak until it is crusty and browned on the bottom, 5 to 8 minutes.
Step 3: Turn the steak over and dump another fistful of salt on top. Continue grilling the steak until the second side is crusty and browned and the meat is cooked to taste, 5 to 8 minutes longer, about 10 minutes in all for rare; 14 to 16 minutes in all for medium-rare. Use the poke test to test for doneness.
Step 4: Lift the porterhouse with tongs and hold it upright over the grill. Using the back of a large knife, whack it on both sides to knock off the excess salt. Transfer the steak to a cutting board, let it rest a couple of minutes, then take it to the table.
Step 5: With guests watching and as much ceremony as you can muster, cut the New York strip portion of the porterhouse (the larger, elongated steak) off the T-bone. Then cut the tenderloin (the rounder steak on the other side) off the bone. At most Tuscan grill houses, the meat would be thinly sliced, but at Buca Lapi, they place the whole steaks on a platter or plates, with the T-bone standing upright like an obelisk. If the meat on the bone is too rare—even for an Italian—you can return it to the grill for additional charring.
Recipe Tips
Note: At most Tuscan steak houses, they drizzle the best quality Tuscan extra-virgin olive oil over the cooked steak. I do this at home and I certainly recommend it. At Buca Lapi, they don't bother.
Find This Recipe
And More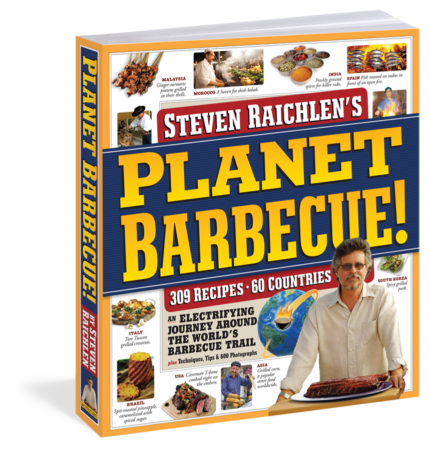 The most ambitious book yet by America's bestselling, award-winning grill expert whose Barbecue! Bible books have over 4 million copies in print. Setting out—again—on the barbecue trail four years ago, Steven Raichlen visited 60 countries—yes, 60 countries—and collected 309 of the tastiest, most tantalizing, easy-to-make, and guaranteed-to-wow recipes from every corner of the globe. Welcome […]
Buy Now ‣