Salsa Verde (Italian Green Sauce)
Steven Raichlen
Italians serve this fragrant green sauce with some of their most cherished dishes: for example, bollito misto (boiled dinner), grilled fish fresh from the sea, or seafood roasted in a salt crust. Some people prize the salty tang of diced anchovy; others, the fiery bite of hot pepper flakes. I've made both optional, so feel free to customize the recipe to suit your taste.
More Recipes from Episode 206: Primal Grilling
Print
Salsa Verde (Italian Green Sauce)
Recipe Notes
Yield: Makes 1 1/2 cups; enough to serve 4 to 6
Ingredients
1 to 2 cloves garlic, minced
½ teaspoon coarse salt (kosher or sea), or more to taste
½ teaspoon freshly ground black pepper
½ teaspoon finely grated lemon zest
¼ cup fresh lemon juice, or more to taste
1 teaspoons cup finely chopped fresh flat-leaf parsley
1 tablespoon drained capers, chopped
2 anchovies, drained and finely chopped (optional)
½ teaspoon hot pepper flakes (optional)
¼ cup boiling water
¾ cup extra virgin olive oil
Recipe Steps
1: Place the garlic, salt, and pepper in a bowl and mash to a paste with the back of a spoon.
2: Stir or whisk in the lemon juice, followed by the remaining ingredients. Correct the seasoning, adding salt or lemon juice. The ingredients also can be combined in a jar and shaken or they can be blended in a food processor or blender. If you use the blender, you'll wind up with a smooth, bright green salsa verde, which isn't strictly traditional but which is very, very good.
3: Like most fresh herb sauces, salsa verde tastes best served within a few hours of making. Or transfer it to a large jar, cover, and refrigerate. You can keep salsa verde for several days, but the bright green color will start to fade. If you do store it, be sure to taste and re-season before serving.
Recipe Tips
Like most vinaigrette-style sauces, salsa verde can be used as a marinade, baste, and sauce. It goes great with light meats, like grilled seafood, chicken, and veal, but it's rich enough to stand up to lamb or beef.
Our thanks to the sponsors of Project Fire Season 2:

Steven Raichlen's Project Fire is a production of Maryland Public Television, Barbacoa, Inc., and Resolution Pictures. © 2019 Barbacoa, Inc. Photos by Chris Bierlein.
Find This Recipe
And More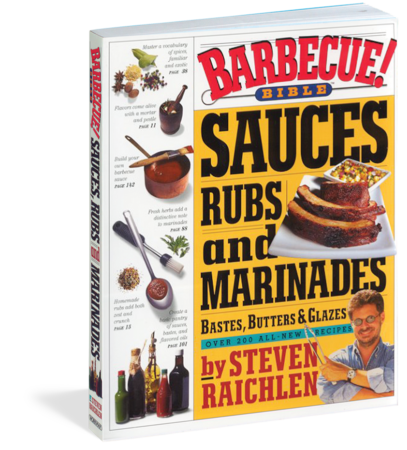 Marinate skewers of beef tips in Tex-Mex Tequila-Jalapeno Wet Rub before putting them on the grill. Or slather pork chops …
Buy Now ‣