Salt and Pepper Beef Ribs
Steven Raichlen
Salt and pepper ribs are a Texas tradition, based on the very simple notion that when the beef is top-notch and the pit is hot and smoky, you don't need a lot in the way of seasonings to make barbecue that is world-class. As a matter of fact, you don't need much more than salt and pepper—the only seasonings used here.
Print
Salt and Pepper Beef Ribs
Recipe Notes
Advance Prep: 1-1/2 cups wood chips or chunks (preferably oak), soaked for 1 hour in water to cover, then drained
Yield: Serves 4 to 6
Ingredients
2 racks beef long ribs (beef back ribs; 5 to 6 pounds total)
Coarse salt (kosher or sea)
Cracked black peppercorns (not finely ground)
Hot red pepper flakes (optional; for spicier ribs)
Bunker Blaster Barbecue Sauce (step 5)
Recipe Steps
Step 1: Prepare the ribs: Place a rack of ribs meat side down on a baking sheet. Remove the thin, papery membrane from the back of the rack by inserting a slender implement, such as a butter knife or the tip of a meat thermometer, under it. The best place to start is on one of the middle bones. Using a dishcloth, paper towel, or pliers to gain a secure grip, peel off the membrane. Repeat with the remaining racks.
Step 2: Generously season the ribs on both sides with salt, cracked black pepper, and hot pepper flakes, if using. Cover the ribs with plastic wrap and refrigerate them while you set up the grill.
Step 3: Set up the grill for indirect grilling and preheat to medium (325° to 350°F). Place a large drip pan in the center of the grill under the grate.
Step 4: When ready to cook, brush and oil the grill grate. Place the ribs bone side down in the center of the grate over the drip pan and away from the heat. If cooking on a charcoal grill, toss half of the wood chips on each mound of coals. Cover the grill and cook the ribs until well browned, cooked through, and tender enough to pull apart with your fingers, 1-1/2 to 2 hours in all. When the ribs are done, the meat will have shrunk back from the ends of the bones by about 1/4 inch. If using a charcoal grill, replenish the coals as needed.
Step 5: Transfer the ribs to a large platter or cutting board and let them rest for a few minutes. Cut the racks in half, if you are serving 4, or into 1- or 2-rib pieces. Serve at once with the Bunker Blaster Barbecue Sauce.
Find This Recipe
And More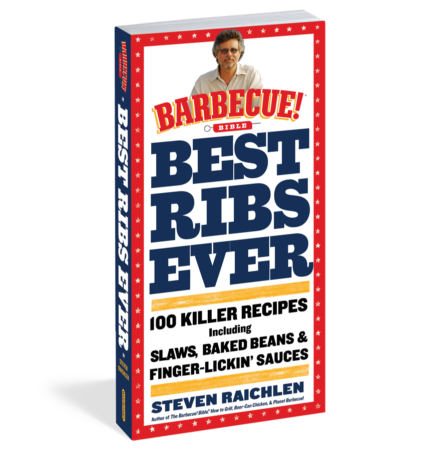 Say it loud, say it proud: the Best Ribs Ever. The perfect single-subject cookbook for every meat-loving griller, this book, formerly titled Ribs, Ribs, Outrageous Ribs, and updated with a menu chapter's worth of new recipes, delivers a match made in BBQ heaven: 100 lip-smackingest, mouth-wateringest, crowd-pleasingest, fall-off-the-bone recipes for every kind of rib, from […]
Buy Now ‣