Santa Maria-Style Salsa
Steven Raichlen
The tri-tip experience simply isn't complete without salsa. The Santa Maria version is enriched with celery, oregano, and Worcestershire sauce. Here's the official recipe, provided by the Santa Maria Valley Chamber of Commerce—well, almost: The lime juice is my own contribution.
Print
Santa Maria-Style Salsa
Recipe Notes
Yield: Makes about 3 cups
Ingredients
3 luscious, ripe red medium-size tomatoes, finely chopped with their juices
2 ribs celery, finely chopped (about 1/2 cup)
3 scallions, both white and green parts, trimmed and finely chopped (about 1/2 cup)
2 to 3 Anaheim chiles, seeded and finely chopped (about 1/2 cup), or 1 to 2 jalapeno peppers, seeded and chopped
1/4 cup chopped fresh cilantro
2 tablespoons fresh lime juice
1 tablespoon distilled white vinegar, or more to taste
1 teaspoon Worcestershire sauce
1/2 teaspoon dried oregano
1/2 teaspoon Tabasco sauce or another hot sauce, or more to taste
Garlic salt and freshly ground black pepper
Recipe Steps
Step 1: Combine the tomatoes, celery, "scallions, chiles, cilantro, lime juice, vinegar, Worcestershire sauce, oregano, and hot sauce in an attrac- tive nonreactive serving bowl and stir to mix.
Step 2: Taste for seasoning, adding more vinegar and/or hot sauce as necessary, and season with garlic salt and black pepper to taste; the salsa should be highly seasoned. It tastes best served within several hours of being made.
Find This Recipe
And More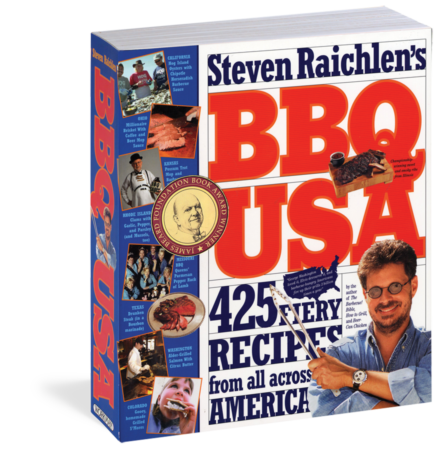 Steven Raichlen, a national barbecue treasure and author of The Barbecue! Bible, How to Grill, and other books in the Barbecue! Bible series, embarks on a quest to find the soul of American barbecue, from barbecue-belt classics-Lone Star Brisket, Lexington Pulled Pork, K.C. Pepper Rub, Tennessee Mop Sauce-to the grilling genius of backyards, tailgate parties, […]
Buy Now ‣