Shawarma Rub
Steven Raichlen
Here's a rub used by Israeli grillmasters to make turkey shawarma.
Print
Shawarma Rub
Recipe Notes
Ingredients
2 tablespoons ground turmeric
2 tablespoons coarse salt (kosher or sea)
2 tablespoons ground coriander
2 teaspoons ground cumin
2 teaspoons freshly ground black pepper
2 teaspoons freshly ground white pepper or more black pepper
2 teaspoons hot paprika or cayenne pepper
Recipe Steps
Step 1: Combine the seasonings in a small bowl and stir to mix.
Step 2: Use as a rub on Middle Eastern-style grilled turkey or lamb.
Find This Recipe
And More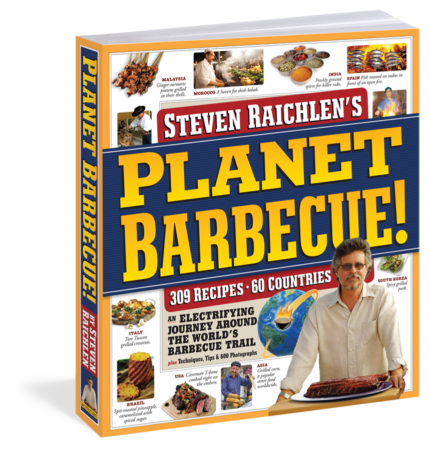 The most ambitious book yet by America's bestselling, award-winning grill expert whose Barbecue! Bible books have over 4 million copies in print. Setting out—again—on the barbecue trail four years ago, Steven Raichlen visited 60 countries—yes, 60 countries—and collected 309 of the tastiest, most tantalizing, easy-to-make, and guaranteed-to-wow recipes from every corner of the globe. Welcome […]
Buy Now ‣