Singapore Cucumber Relish
Steven Raichlen
Print
Singapore Cucumber Relish
Recipe Notes
Yield: Makes 1 to 1 1/2 cups
Ingredients
2 Kirby (pickling) cucumbers, or 1 medium-size cucumber, cut in half lengthwise and seeded (see Note)
1 shallot, minced (2 to 3 tablespoons), or 1 scallion, both white and green parts, trimmed and minced
1 small hot red chile, such as a bird or cayenne pepper, stemmed, seeded, and minced
2 tablespoons rice vinegar
1 tablespoon sugar
Coarse salt (kosher or sea) and freshly ground black pepper
Recipe Steps
Step 1: Cut the cucumber(s) into 1⁄4-inch dice.
Step 2: Place the cucumber(s), shallot, chile, rice vinegar, and sugar in a mixing bowl and toss gently to mix. Season with salt and pepper to taste. The relish can be made up to 2 hours ahead.
Recipe Tips
Note: It is not necessary to seed Kirby cucumbers.
Find This Recipe
And More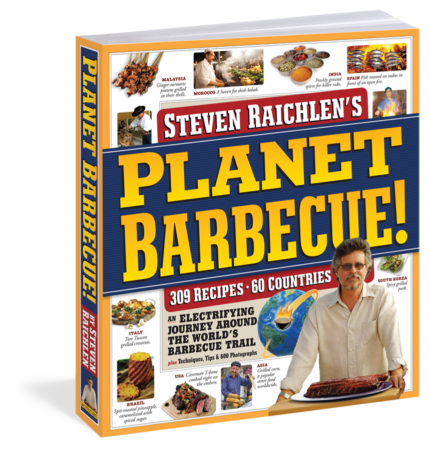 The most ambitious book yet by America's bestselling, award-winning grill expert whose Barbecue! Bible books have over 4 million copies …
Buy Now ‣