Whole Smoked Beef Tenderloin with Ember-Roasted Peppers
Steven Raichlen
Nothing says generosity like a whole beef tenderloin. Yes, it's expensive, but the wow power is off the charts. If you're a beef addict, it brings immediate intoxication.
Beef tenderloin is a luxurious cut of meat, one that justifies the purchase of a reliable meat thermometer if you don't already own one. This tenderloin is smoked from start to finish to medium-rare (125 degrees), rested for a few minutes, then served with a tangy Horseradish Cream Sauce and bell peppers roasted directly in the embers. But if you'd like to try the popular reverse-sear method, where the meat is smoked, then seared to finish—I've provided those instructions, too.
More Beef Recipes:
Print
Whole Smoked Beef Tenderloin with Ember-Roasted Peppers
Recipe Notes
Yield: Serves 8
Method: Hot smoking
Equipment: Pit Barrel Cooker; oak
Ingredients
1 whole beef tenderloin (about 4 pounds trimmed)
Smoked salt or coarse kosher or sea salt
Cracked black peppercorns or coarsely ground black pepper
1 to 2 tablespoons extra virgin olive oil, plus 1 tablespoon for basting
Recipe Steps
Step 1: Set up your smoker according to the manufacturer's instructions and preheat to 300 degrees.
Step 2: Place the tenderloin on a rimmed baking sheet and season very generously on all sides with salt and pepper. Drizzle the tenderloin on all sides with olive oil, rubbing it into the meat. Place the tenderloin (without the baking sheet) in the smoker and add the wood as specified by the manufacturer.
Step 3: Smoke the tenderloin for 45 minutes, or until the internal temperature is about 125 degrees.
Step 4: Transfer the tenderloin to a cutting board and let it rest for 10 minutes. (Loosely drape a sheet of foil over it to keep it warm. Do not bunch the foil around the meat or the crust will get soggy.) Thinly slice the tenderloin crosswise and take time to admire the smoke ring before you serve it. This just may be the best beef tenderloin you'll ever taste.
Recipe Tips
Alternatively, if you want to use the reverse-sear method on the tenderloin, set up your grill or smoker for direct grilling and heat to high after smoking to an internal temperature of 110 degrees. Brush and oil the grill grate. Transfer the tenderloin to the grill. Direct grill, turning with tongs as needed, until the outside is darkly browned and sizzling and the internal temperature in the thickest part of the tenderloin reaches 120 to 125 degrees (rare) or 130 degrees (medium-rare).
Find This Recipe
And More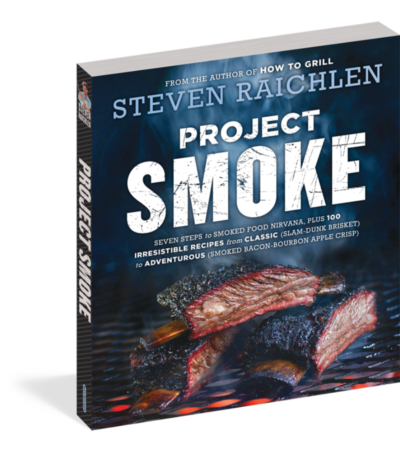 New York Times Bestseller Project Smoke is the How to Grill of smoking, both a complete step-by-step guide to mastering …
Buy Now ‣