Smoked Gazpacho
Steven Raichlen
I've always loved this dish. After all, what could be less likely fare for the grill or smoker than soup? Especially when that soup is that quintessential summertime refresher: gazpacho. Born in Spain, this explosively flavorful soup combines ripe tomatoes, fragrant bell peppers, crisp cucumber, and pungent garlic, sharpened with vinegar and soothed with olive oil, then churned to a creamy puree in a blender.
But great as gazpacho is, it's about to get better and the secret is, you guessed it: a blast of wood smoke. You can add it by grilling the vegetables over a wood fire. Or by smoking them in a smoker. The key is to work quickly so you smoke the outside while leaving the veggies cool and raw in the center. Added advantage, you can smoke the gazpacho at a previous grill session: it's always nice to have a dish you can prepare ahead.
More Smoked Soup Recipes:
Print
Smoked Gazpacho
Recipe Notes
Yield: Serves 4 as an appetizer
Method: Cold smoking with a smoking gun
Equipment: Handheld smoking device (such as Aladin or the Smoking Gun by Polyscience) with sawdust
Ingredients
4 luscious red ripe tomatoes (about 2 pounds), diced
1 medium cucumber, peeled, seeded, and diced
1/2 green or yellow bell pepper, cored, seeded, and diced
1/2 red bell pepper, cored, seeded, and diced
1 small sweet onion, diced
1 clove garlic, rough chopped
3 tablespoons really good Spanish extra-virgin olive oil, plus 1 tablespoon for drizzling
2 tablespoons red wine vinegar (or to taste)
Sea salt and freshly ground black pepper
1 tablespoon chopped fresh chives or scallion greens
Recipe Steps
Step 1: Combine the tomatoes, cucumber, bell peppers, onion, and garlic in a large glass bowl.
Step 2: Just before serving, tightly cover the bowl with plastic wrap, leaving space for the rubber tube of the smoking gun. Light the gun according to the manufacturer's directions and fill the bowl with smoke, pulling the plastic wrap tight to seal in the smoke. Let stand for 4 minutes. Uncover the bowl and stir in the smoke. Repeat once or twice or until the gazpacho is smoked to your taste.
Step 3: Place the vegetables in a food processor or blender and process to a smooth puree. Gradually add the oil and vinegar and enough ice water to make a pourable soup, about 1/2 cup. Add salt and pepper to taste, plus a few drops of vinegar if needed to balance the sweetness of the vegetables. The gazpacho can be made several hours ahead to this stage and refrigerated, but re-season it before serving.
Step 4: Pour the gazpacho into bowls or mugs. Sprinkle each with chopped chives and dig in.
Find This Recipe
And More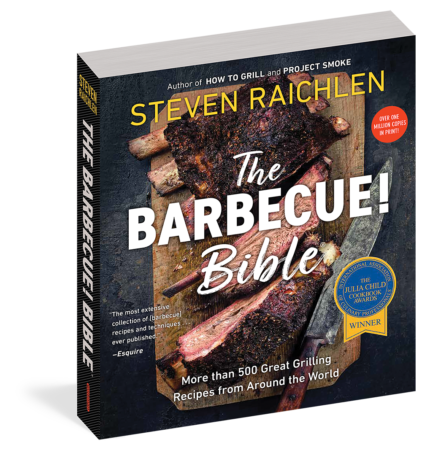 Steven Raichlen's Barbecue! Bible offers the biggest collection of barbecue recipes and grilling recipes ever developed.
Buy Now ‣