Smoked Planked Brie with Cranberry Preserves and Walnuts
Steven Raichlen
Print
Smoked Planked Brie with Cranberry Preserves and Walnuts
Recipe Notes
Grill Time: 5 to 8 minutes
Yield: Serves 3 to 4
Method: Smoke-roasting
Equipment: 1 cedar plank; 1-1/2 cups soaked wood chips (optional)
Ingredients
1 small brie cheese (8 ounces)
3 tablespoons cranberry jelly or preserves
About 15 walnut halves
Crackers or grilled toasts
Recipe Steps
Step 1: Set up your grill for smoke-roasting (indirect grilling) and preheat to medium-high (400°F).
Step 2: Place the plank directly over one of the fires and grill until singed on both sides, 1 to 2 minutes per side. Set aside and let cool. (This step is optional, but it gives you a lot more flavor.)
Step 3: Place the cheese in the center of the plank. Spread the top with the jelly, using the back of a spoon. Arrange the walnuts on top in a decorative pattern.
Step 4: Place the plank on the grill away from the heat and toss the wood chips, if using, on the coals. Smoke-roast the brie until the sides are soft and beginning to melt, 5 to 8 minutes.
Step 5: Serve the cheese on the plank hot off the grill. Spread it on grilled toast slices or interesting crackers.
Find This Recipe
And More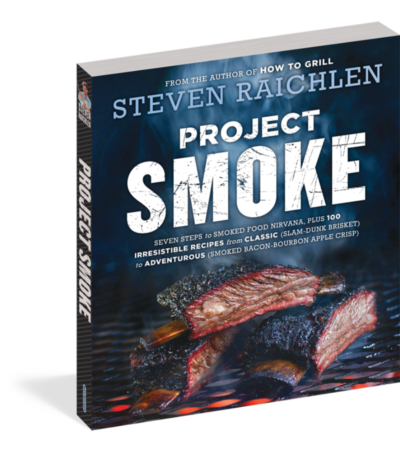 New York Times Bestseller Project Smoke is the How to Grill of smoking, both a complete step-by-step guide to mastering the gear and techniques and a collection of 100 explosively flavorful recipes for smoking every kind of food, from starters to desserts. Project Smoke describes Raichlen's seven steps to smoked food nirvana, including 1. Choose […]
Buy Now ‣