Spice-Smoked Lamb Ribs with Cherry Barbecue Sauce
Steven Raichlen
Here is an up and comer in the American barbecue scene, lamb ribs. They are super flavorful, very tender, and well worth adding to your repertoire.
Lamb ribs are so different than what we are used to. This is crusty on the outside, great cherry smoked flavor, goes really nicely with Cherry Barbecue Sauce.
More Unique Rib Recipes:
Print
Spice-Smoked Lamb Ribs with Cherry Barbecue Sauce
Recipe Notes
Yield: Serves 8 as an appetizer; 4 as a main course
Equipment: Bradley digital smoker; cherry wood; spray bottle
Ingredients
4 racks of "Denver cut" lamb ribs (the ovine equivalent of a pork spare rib—each 1 to 1-1/2 pounds)
For the rub (or use your favorite rub):
1 tablespoon kosher salt
1 tablespoon cracked black peppercorns
1 tablespoon smoked paprika
1 tablespoon brown sugar
1 tablespoon unsweetened cocoa powder
1 cup cherry cola in a spray bottle for spraying
Recipe Steps
Step 1: Prepare the ribs: Place a rack of ribs meat side down on a baking sheet. Remove the thin, papery membrane from the back of the rack. Turn the ribs over and using a knife, score a crosshatch pattern on the meat side. Make your cuts about 1/2 inch apart and 1/4 inch deep. Repeat with the second rack.
Step 2: Make the rub: Combine the ingredients in a mixing bowl and mix with your fingers. Sprinkle the rub on the ribs on both sides, rubbing it into the meat.
Step 3: Set up your smoker following the manufacturer's instructions. Preheat to 225 degrees.
Step 4: Place the ribs in your smoker and smoke until tender and the meat shrinks back from the ends of the bones, 2-1/2 to 3 hours. Start spraying the ribs with cherry cola after 1 hour and spray once an hour until done.
Step 5: Optional: The last 5 minutes, brush the ribs with the sauce and direct grill over a hot fire to sizzle the sauce into the meat.
Step 6: Transfer the racks to a cutting board and cut into individual ribs. Serve with Cherry Barbecue Sauce.
Find This Recipe
And More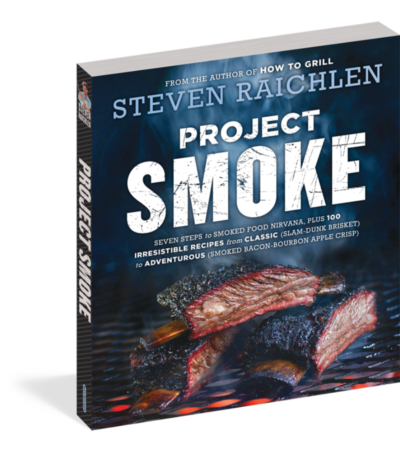 New York Times Bestseller Project Smoke is the How to Grill of smoking, both a complete step-by-step guide to mastering …
Buy Now ‣