Spicy Apple Barbecue Sauce
Steven Raichlen
This Missouri-style sauce is inspired by B.B.'s Lawnside in Kansas City. Apple juice makes it sweet and ground cloves and cinnamon make it spicy—think of it as a sort of liquid apple pie.
Print
Spicy Apple Barbecue Sauce
Recipe Notes
Ingredients
1 cup ketchup
2 cups apple juice
1/3 cup molasses
1/4 cup cider vinegar
1/4 cup firmly packed dark brown sugar
2 tablespoons granulated sugar
1-1/2 teaspoons mild red pepper or chile powder
1 teaspoon ground cinnamon
1/2 teaspoon ground cloves
1/2 teaspoon celery seed
Coarse salt (kosher or sea) and freshly ground black pepper
Recipe Steps
Step 1: Place the ketchup, apple juice, molasses, cider vinegar, brown sugar, granulated sugar, red pepper, cinnamon, cloves, and celery seed in a large heavy nonreactive saucepan and gradually bring to a boil over medium heat, whisking to mix.
Step 2: Reduce the heat to low and let the sauce simmer until thick and richly flavored, about 40 minutes, whisking it often. When it's properly cooked down, you'll have about 2-1/2 cups. Season the sauce with salt and black pepper to taste; it should be highly seasoned. The sauce can be refrigerated, covered, for several weeks. Let it return to room temperature before using.
Find This Recipe
And More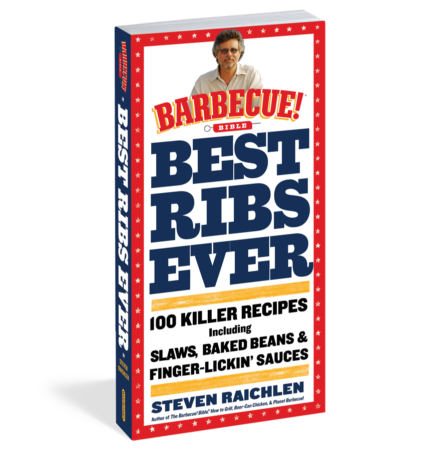 Say it loud, say it proud: the Best Ribs Ever. The perfect single-subject cookbook for every meat-loving griller, this book, …
Buy Now ‣