Sriracha Beef Jerky
Steven Raichlen
Beef jerky was originally made as a way to preserve beef without refrigeration. Fat spoils more quickly, which is why jerky is traditionally made with lean beef.
This Sriracha Beef Jerky starts with a simple marinade, made with Thai Sriracha for fire power. Use a lean cut like top round and slice into long thin strips. Marinade for at least 4 hours before smoking. The result is tender and almost crispy, with a slow burn from the Sriracha and a nice nutty flavor from the sesame oil. I never dreamt that jerky could be so complex.
Other Jerky Recipes:
Print
Sriracha Beef Jerky
Recipe Notes
Yield: Makes 30 to 36 strips
Method: Hot smoking (at a relatively low temperature)
Equipment: Bradley digital smoker; hickory or the fuel of your choice
Ingredients
2 pounds lean beef, such as top or bottom round or flank steak
1/2 cup sriracha
1/4 cup soy sauce or Asian fish sauce
1/4 cup sesame oil
3 cloves garlic, minced
3 tablespoons chopped fresh cilantro
Recipe Steps
Step 1: Freeze the beef for 1 hour or until firm but not frozen solid. This facilitates slicing.
Step 2: Meanwhile, make the marinade: In a large mixing bowl combine the sriracha, soy sauce, sesame oil, garlic, and cilantro and whisk to mix. Set aside.
Step 3: Using a sharp chef's knife, slice the beef along the grain into 1/8- to 1/4-inch thick slices, trimming off any visible fat or connective tissue. Transfer the beef strips to a sturdy resealable plastic bag and pour the marinade over the meat, massaging the bag to coat each strip. Marinate the jerky strips in the refrigerator for at least 4 hours and up to 24: the longer, the spicier the jerky.
Step 4: Remove the beef strips from the marinade and arrange on a wire rack over a baking sheet. Let drain and dry for 30 minutes. Discard the marinade.
Step 5: Meanwhile, set up your smoker following the manufacturer's instructions and preheat to 160 degrees. Add the wood as specified by the manufacturer.
Step 6: Place the rack in the smoker (or arrange the beef strips on the smoker racks) and smoke until dried but still pliant, 3-1/2 to 4 hours.
Step 7: Transfer the hot jerky to a large heavy-duty resealable plastic bag. (The resulting steam relaxes the meat.) Let cool to room temperature. Dig in now or later.
Find This Recipe
And More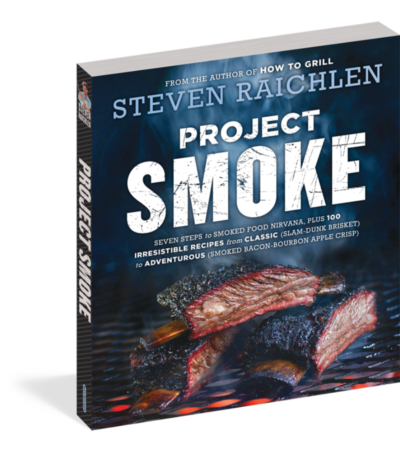 New York Times Bestseller Project Smoke is the How to Grill of smoking, both a complete step-by-step guide to mastering …
Buy Now ‣