The Ur-Burger
Steven Raichlen
The perfect burger. Platonic idea? Or beef patty that actually exists? If you start with the right meat, patty shape, and bun and keep the flavorings subordinate to the beef, any burger has the potential for greatness. Among my favorites is the Ur-Burger (from the German word ur for original, fundamental, or basic), which you can customize to taste.
Print
The Ur-Burger
Recipe Notes
Yield: 4 burgers
Method: Direct grilling
Ingredients
1 1/2 to 2 pounds ground beef, well chilled
Coarse salt (kosher or sea) and freshly ground black pepper
4 teaspoons salted butter, at room temperature, plus extra for the buns
4 freshly baked hamburger buns or brioche rolls
"Secret Sauce" (see below) or your condiments of choice
4 Boston or Bibb lettuce or 8 arugula leaves, rinsed and patted dry with paper towels
1 luscious red ripe tomato, thinly sliced
Your choice of embellishments for the burgers
Recipe Steps
Step 1: Rinse your hands under cold water. Divide the beef into 4 equal portions. Shape each portion into a patty about 1 inch thick and slightly larger in diameter than the buns. Work with a light touch, handling the meat as little as possible. Make a slight depression in the center of the patties; they should be slightly concave. You can form the burgers up to 6 hours ahead. Arrange the burgers in a single layer on a plate lined with plastic wrap; cover with additional plastic wrap and refrigerate.
Step 2: Set up the grill for direct grilling and preheat it to high. (In a perfect world, you'd grill over a wood fire.) If working over charcoal, you can add a couple handfuls of soaked, drained hardwood chips to generate optional wood smoke.
Step 3: When ready to cook, brush and oil the grill grate. Arrange the burgers on the hot grate and grill them until the bottoms are browned, 3 to 5 minutes. Using a spatula, gently turn the burgers over. (Never press them with the spatula.) Continue grilling the burgers until cooked to taste, 3 to 5 minutes more. Unless you're absolutely sure about the purity of your meat, cook beef burgers to medium—160 degrees. (Insert an instant-read meat thermometer through the side of the burger toward the center.) Transfer the burgers to a warm plate and put a teaspoon of butter on top. Let the burgers rest for 1 to 2 minutes.
Step 4: Lightly butter the buns, then grill, cut sides down, until golden, 30 seconds to 1 minute.
Step 5: To assemble the burgers, spread the buns with "Secret Sauce," if using, or whatever condiment(s) you prefer. Place a burger on top of the sauce and top it with a lettuce leaf and a tomato slice and any embellishments you like. Replace the top of the bun.
Recipe Tips
"Secret Sauce": Combine 1/2 cup mayonnaise (preferably Hellmann's) with 2 tablespoons each Dijon mustard, prepared horseradish, and A.1. or other steak sauce; stir in 2 tablespoons of minced dill pickles or cornichons.
My dream ground meat mix combines ground sirloin (40 percent), chuck (40 percent), and brisket (20 percent). Make friends with your local butcher and ask him to custom-grind it for you.
Find This Recipe
And More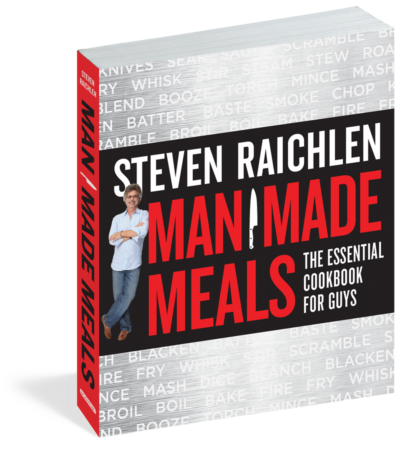 Man Made Meals is about the tools and techniques (guess what, grillers, you still get to play with knives and fire.) It's about adopting secrets from the pros—how to multitask, prep before you start cooking, clean as you go. It's about understanding flavor and flavor boosters, like anchovies and miso, and it's about essentials: how to […]
Buy Now ‣