Trinidadian Grilled Swordfish
Steven Raichlen
Trinidadian Grilled Swordfish served on a grilled warm flatbread with cool Caribbean mango salsa.
Print
Trinidadian Grilled Swordfish
Recipe Notes
Advance Prep: 2 to 4 hours for marinating the fish; 1 to 2 hours for rising the bake dough
Yield: 4
Method: Direct grilling
Ingredients
For the fish and marinade:
4 swordfish steaks (each 6 to 8 ounces, and about 3/4 inch thick)
1/2 bunch chives or scallions, trimmed
2 shallots or 1/2 small onion, coarsely chopped
2 cloves garlic, peeled and coarsely chopped
1 medium rib celery, coarsely chopped
1/4 cups fresh cilantro leaves
1/4 cups fresh Italian (flat-leaf) parsley leaves
2 tablespoons fresh mint leaves
2 teaspoons fresh thyme leaves, or 1 teaspoon dried
1/2 scotch bonnet chile, seeded and deveined, or for a mild preparation, 1/4 cup chopped green bell pepper
3/4 cups water
1/4 cups fresh lime juice, or more to taste
2 teaspoons salt, or more to taste
1/2 teaspoons freshly ground black pepper
For the "bakes":
1 tablespoons active dry yeast
1 tablespoons sugar
1-1/4 cups warm water
2-1/2 cups unbleached all-purpose flour, plus more as needed
2 teaspoons baking powder
1-1/4 teaspoons salt
2 to 3 tablespoons vegetable oil, for brushing
Salt and freshly ground black pepper
For serving:
Mango salsa
Matouk's, Bushe Browne's or other Caribbean hot sauce, for serving
Recipe Steps
Step 1: Rinse the swordfish steaks under cold running water, then drain and blot dry with paper towels. Place in a nonreactive baking dish in a single layer and set aside while you prepare the marinade.
Step 2: Combine the chives, shallots, garlic, celery, cilantro, parsley, mint, thyme, chile, water, 1/4 cup lime juice, 2 teaspoons salt, and the pepper in a blender or food processor and puree. Taste for seasoning, adding lime juice or salt as necessary; the mixture should be highly seasoned. Pour over the steaks in the baking dish, turning to coat. Cover and let marinate, in the refrigerator, for 2 to 4 hours.
Step 3: At least 2 hours ahead of grilling, prepare the dough for the bakes. Combine the yeast, sugar, and 1/2 cup of warm water in a large bowl and stir with a wooden spoon until the yeast and sugar are dissolved. Let the mixture stand until foamy, 5 to 10 minutes, then stir in the remaining water. Sift in the 2-1/2 cups flour, the baking powder, and salt. Stir the mixture with the wooden spoon to form a stiff but moist dough, adding flour as necessary. (See Note below.) The dough will be moister than conventional bread dough, but not so wet that you can't roll it out. Knead the dough in the bowl until smooth and elastic, 5 minutes.
Step 4: Cover the bowl with plastic wrap, place it in a warm, draft-free spot, and let the dough rise until doubled in bulk, 1 to 2 hours.
Step 5: Preheat the grill to medium-high.
Step 6: Punch the dough down by stirring with a wooden spoon. Divide the dough into 4 equal pieces and roll each piece into a ball. Dust the balls with flour. Working on a liberally floured work surface with a floured rolling pin, roll each ball into a circle 6 to 7 inches in diameter and 1/4 inch thick.
Step 7: When ready to grill the bakes, oil the grill grate. Lightly brush the bakes with oil and arrange them on the hot grill grate. Grill them until blistered and lightly browned, 2 to 4 minutes per side, turning them with a long spatula. Keep the bakes warm in a bread basket lined with a towel.
Step 8: When ready to cook the steaks, remove from the marinade and blot dry with paper towels. Brush lightly on both sides with oil, sprinkle with salt and pepper, and arrange
on the hot grate. Grill until cooked through in the center when pierced with a knife, 3 to 5 minutes per side, turning over carefully with a long spatula. For an attractive crosshatch of grill marks, rotate the steaks 90 degrees after 2 minutes on each side.
Step 9: Using the spatula, carefully transfer the steaks to serving plates or a platter. To eat, fold a piece of swordfish in a bake, pouring on mango salsa and hot sauce to taste.
Note: The dough can also be made in a mixer with a dough hook attachment.
Find This Recipe
And More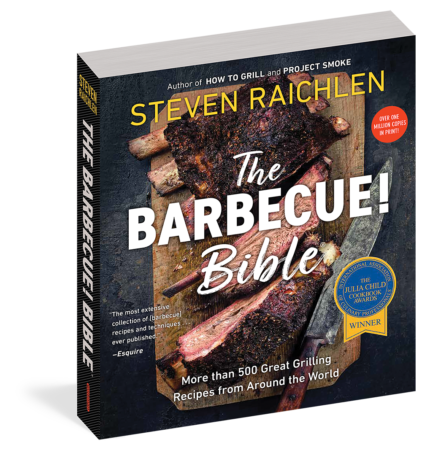 Steven Raichlen's Barbecue! Bible offers the biggest collection of barbecue recipes and grilling recipes ever developed.
Buy Now ‣