Triple Smoked Potatoes
Steven Raichlen
Print
Triple Smoked Potatoes
Recipe Notes
Yield: Serves 4
Method: Smoke-roasting/smoking
Equipment: Smoker: Horizon; Fuel: Oak, pecan, or other
Ingredients
4 large baking potatoes (12 to 14 ounces)
1 tablespoon bacon fat (from below), melted, butter, or extra-virgin olive oil
Coarse sea salt and freshly ground black pepper
For the stuffing:
4 strips artisanal bacon, cut crosswise into 1/4-inch slivers
4 tablespoons cold unsalted butter, thinly sliced
4 tablespoons finely chopped scallions
2 cups coarsely grated smoked or white cheddar cheese (about 8 ounces)
1/2 cup sour cream
Pimentón (smoked paprika) for sprinkling
Recipe Steps
Step 1: Set up your smoker following the manufacturer's instructions and preheat to 400 degrees. (If your smoker cannot reach that temperature, set it to 300 or 275 and cook the potatoes for a longer time.)
Step 2: Scrub the potato on all sides with a vegetable brush. Rinse well and blot dry with paper towels. Pierce the potatoes several times with a fork or a clean nail. Brush or rub the potato on all sides with the bacon fat and season generously with salt and pepper.
Step 3: Place the potatoes in the smoker and add the wood as specified by the manufacturer. Smoke until the skins are crisp and the potatoes are tender in the center (they'll be easy to pierce with a slender metal skewer), 1 to 1-1/2 hours.
Step 4: Meanwhile, place the bacon in a cold skillet and fry over medium heat until browned and crisp, 3 to 4 minutes. Drain off the bacon fat (save for future use).
Step 5: Transfer the potatoes to a cutting board and let cool slightly. Cut each potato in half lengthwise. Using a spoon, scrape out most of the potato flesh, leaving a 1/4-inch thick layer next to the skin. (Note: it's easier to scoop the potatoes when warm.) Cut the potato flesh into 1/2 inch dice and place in a mixing bowl.
Step 6: Stir the bacon pieces, 3 tablespoons butter, the scallions, and cheese and gently stir to mix. Stir in the sour cream and salt and pepper to taste: the mixture should be highly seasoned. Stir as little and gently as possible so as to leave some texture to the potatoes.
Step 7: Stuff the potato mixture back into the potato skins, mounding it in the center. Top each potato with a thin slice of butter (from the remaining 1 tablespoon) and a sprinkling of smoky pimenton. The potatoes can be prepared up to 24 hours ahead to this stage and refrigerated.
Step 8: Just before serving, reheat the potatoes in a preheated 400 degree smoker until browned and bubbling, 20 to 25 minutes, or as needed.
Find This Recipe
And More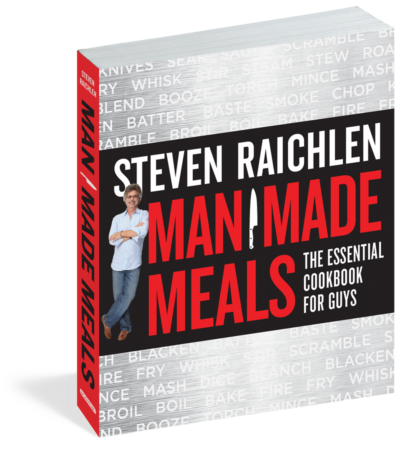 Man Made Meals is about the tools and techniques (guess what, grillers, you still get to play with knives and fire.) …
Buy Now ‣