Whiskey-Cured Cold Smoked Salmon
Steven Raichlen
This cold-smoked salmon is prepared with single malt Scotch whiskey and dark brown sugar. As always, buy fresh wild salmon when you can get it, preferably coho or king.
Other Seafood Recipes:
Print
Whiskey-Cured Cold Smoked Salmon
Recipe Notes
Yield: Makes 1 1/2 pounds, enough to serve 8 to 10 as a starter
Method: Cold-smoking
Equipment: Kitchen tweezers or needle-nose pliers; cherry, alder, or any hardwood (enough for 1 hour of smoking)
Ingredients
1 piece (1 1/2 pounds) fresh skin-on salmon fillet (preferably a center cut)
1 cup single malt Scotch whiskey
1 cup packed dark brown sugar
1/2 cup coarse salt (sea or kosher)
1 tablespoon freshly ground black pepper
Vegetable oil, for oiling the rack
Recipe Steps
Step 1: Rinse the salmon fillet under cold running water and blot dry with paper towels. Run your fingers over the flesh side of the fillet, feeling for the sharp ends of pin bones. Pull out any you find with kitchen tweezers.
Step 2: Place the salmon, skin side down, in a nonreactive baking dish just large enough to hold them. Add the whiskey, cover, and marinate in the refrigerator for 30 minutes, turning the fish twice. Drain the salmon well in a colander, discarding the whiskey, and blot the salmon dry with paper towels. Wipe out the baking dish.
Step 3: Place the sugar, salt, and pepper in a bowl and mix well, breaking up any lumps in the brown sugar with your fingers. Spread 1/2 cup in the bottom of the baking dish. Arrange the salmon pieces on top, skin side down. Sprinkle the remaining 1 cup of the cure over the salmon, rubbing it into the flesh with your fingertips. Cover with plastic wrap and cure in the refrigerator for 24 hours.
Step 4: Rinse the cure off the salmon under cold running water and blot dry with paper towels. Arrange the salmon skin side down on an oiled wire rack over a rimmed baking sheet and let air-dry, uncovered, in the refrigerator until tacky, about 2 hours.
Step 5: Set up your smoker for cold smoking, following the manufacturer's directions.
Step 6: Transfer the salmon on its rack to the smoker. Smoke until golden brown and firm at the edges, 12 to 18 hours. Keep the smoker temperature below 80 degrees.
Step 7: Transfer the salmon on its rack to a rimmed baking sheet and let cool to room temperature, then refrigerate, wrapped in plastic or aluminum foil, until serving. To serve, thinly slice the salmon on the diagonal. It will keep in the refrigerator for at least 3 days or in the freezer for several months.
Recipe Tips
By varying the base ingredients you can create a dozen different versions of kippered salmon. Rinse with whiskey, vodka, aquavit, or gin. Use maple sugar, molasses, or honey instead of brown sugar. Add coriander and dill in the manner of Scandinavian gravlax. You get the idea.

Find This Recipe
And More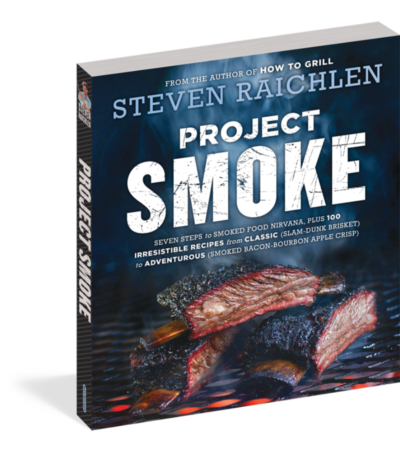 New York Times Bestseller Project Smoke is the How to Grill of smoking, both a complete step-by-step guide to mastering …
Buy Now ‣