9 Must-Have Tailgating Accessories
On any given Sunday…or Saturday…or Monday in autumn, millions of Americans flock to stadium parking lots to eat, drink, and pray for their favorite college and pro teams. Meanwhile, the swallows, departing Capistrano at the height of tailgating season, must look down at the rollicking parties and telegraph to each other, "WTH?"
To the rest of the world, America's obsession with tailgating must seem a bit over-the-top. After all, more than 20,000,000 of us consider ourselves bona fide tailgaters, with millions more hosting pre-game and post-game parties at home. The concept bundles two of our collective favorite passions: live-fire cooking and competitive sports. In fact, tailgating itself has become a competitive sport since it was first practiced at the Princeton-Rutgers football game in 1869.
Want to be a tailgating champ? RSVP for and attend my Barbecue University™ Gold Plate Tailgating Live Video Event this Sunday, Sept. 22nd at 4 p.m. EST! And add these handy tools to your equipment locker: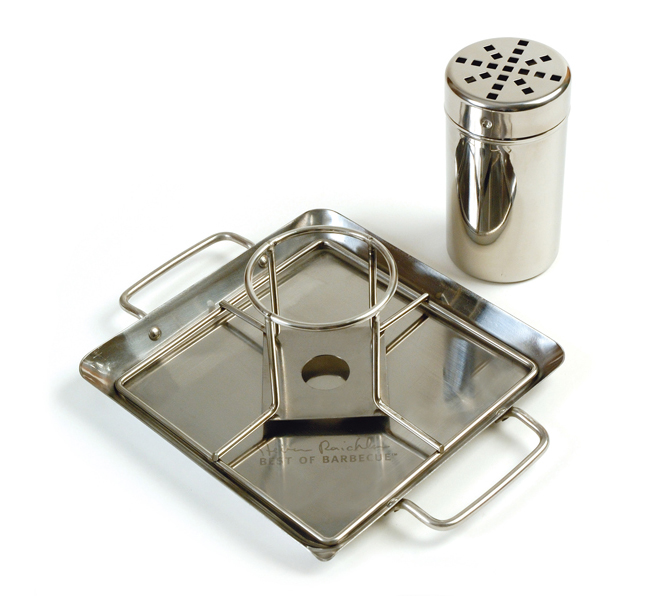 Beer Can Chicken Roaster: Designed by the guy who literally wrote the book on beer can chicken (that would be me), this stainless steel chicken roaster eliminates several potential problems for the tailgater. Chicken enthroned on a beer can has a tendency to tip over—especially when beer has been consumed during its preparation. The roaster stabilizes your bird so you won't find it lying on the grill grate like a downed player. The easy-to-clean tray collects dripping fat and juices, eliminating flare-ups. Or skip the can altogether and pour your favorite beverage—wine, rum and fruit juice, ale, etc.—directly into the stainless steel canister.
Charcoal or Ash Can: The game's over and the party's winding down. What to do with the still-hot ashes in your grill, which can stay "live" for up to 48 hours? Some stadiums provide bins for spent charcoal and ash. For those that don't, the Best of Barbecue™ galvanized Charcoal/Ash Can with its tight-fitting lid rides to the rescue. Safely and responsibly transports extinguished but still warm remnants of your fire. At home, use it to store fresh charcoal. Holds up to 12 pounds.
And while you're at it, pick up our aluminum scoop: It's handy for adding the charcoal and transferring hot ashes to the Ash Can.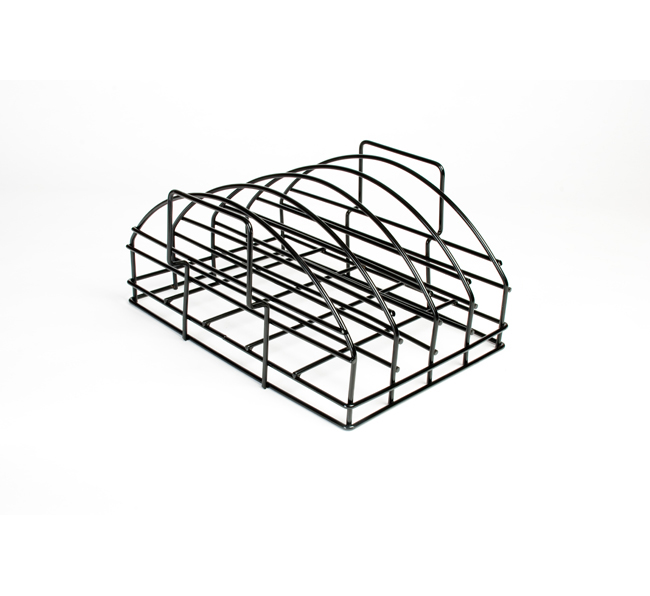 Ultimate Rib Rack: Do the math: Two full racks of pork or beef ribs take up most of the space on your grill grate—especially if you rely on a smaller, portable-style grill for tailgating. With this sturdy nonstick rib rack, you can barbecue four racks of ribs in an upright position in the same amount of grill grate real estate. Vertical ribs self-baste as they cook, becoming admirably tender and succulent.
Chili Pepper Roasting Rack: Jalapeño poppers rank among the most popular foods in tailgating, packing stadium-size flavor into two or three handheld bites. But how do you keep the filling from melting out? Enter the pepper roasting rack, which holds 18 whole stuffed jalapenos upright. Also included is a unique coring tool that removes the seeds and ribs of the chile with a simple twist of the wrist.
Sausage Basket: If you've ever tried grilling brats or Italian sausages for the multitudes, you know that managing individual sausages on the grill can get old. Make your life easier with the Best of Barbecue™ Sausage Basket. It locks as many as 10 full-size sausages in place, allowing you to turn them all with one flick of the wrist. Helps you dodge flare-ups and keeps sausages from rolling into the fire. P.S. Here's a little-known fact in tailgating history: Stadium sausages used to be served by vendors wearing gloves. But one vendor ran out of gloves, so he slapped his sausages on rolls—the birth of the sausage sandwich.
Insulated Food Gloves: As any Carolina pit master will tell you, the best "tool" for pulling pork is your fingers. Unfortunately, pork must be pulled while it's still scorching hot to the touch. These flexible, fabric-lined heavy-duty gloves will protect your hands whether you're pulling pork or sectioning and deboning ribs, or lifting a chicken off the beer can. Washable.
Ultimate Suede Grilling Gloves: And while we're on the subject of hand wear, any serious tailgater needs a pair of suede grill gloves. Ideally with extra padding in the fingers and palms and a sleeve that protects your arm past the elbow. Cooks Illustrated magazine gave top rating to these Best of Barbecue Suede Grill Gloves. A full 18 inches long, these tough-looking black and orange gloves are great for fireplace cooking, too.
Lumatong™ with Grab-Light: Game days might find you setting up in the pre-dawn hours cooking breakfast for your tailgating buddies. Or maybe there's a night game on the schedule. There are better ways to battle the dark than clenching a flashlight in your teeth. The Lumatong™ features a righteous set of spring-loaded, 20-inch tongs, plus an ingenious bright LED flashlight built into one arm to illuminate your food. (Yes, you can detach the flashlight, making the Lumatong™ dishwasher safe.) Batteries included.