9 Recipes to Grill or Smoke in December
It's been immortalized in song as "the most wonderful time of the year." It's also one of the busiest. We love the hustle and bustle of the season, but wish we could just slow…things…down. Sometimes, a bit of quiet time spent with your grill or smoker is just the respite you need from the craziness. We find fresh air with a whiff of smoke is a great restorative. Which is why we urge you to get outside in the next few weeks and make one or more of our most popular holiday-worthy recipes like smoke-roasted beef tenderloin, Buffaque brussels sprouts, planked Camembert, and more. A tot of smoked made-from-scratch eggnog might be just the thing to get the party started.
9 Recipes to Grill or Smoke in December
Delight holiday guests or your family with homemade eggnog, rich with cream and egg yolks, spiced with cinnamon and nutmeg, laced with rum and brandy, and kissed with smoke from a handy hand-held smoker. Its texture and depth will astound you as it's nothing like the eggnog sold in cartons in the dairy aisle.
One of our favorite appetizers is also one of the easiest in our repertoire—planked Camembert or Brie with a topping of nuts and pepper jelly. It's perfect for the holidays, and comes together in minutes. Feel free to substitute another jelly or jam for the pepper jelly. Serve with fancy crackers.
Few meats are as celebratory as a whole beef tenderloin, roasted to perfection. To achieve a caramelized crust and a rosy, sanguine center, we use the now-popular reverse-sear method; the meat is smoked to an internal temperature of 110 degrees, rested, then finished over a hot fire. Be sure to use a reliable instant-read meat thermometer so you can carefully monitor the temperature. Serve with horseradish sauce.
Another indulgent treat is rack of lamb (there are eight chops per rack). For maximum "wow" power, ask the butcher to french the bones—that is, clean any meat or gristle off the bones—or do it yourself with a small sharp knife. The meat is then slathered with coarse-grained mustard and covered with seasoned bread crumbs. For medium-rare, cook to 130 to 135 degrees; monitor the temperature using an instant-read meat thermometer.
Easy enough for a weeknight dinner, but fancy enough for a holiday get-together, this Asian-inspired preparation of one of America's favorite cold water fish begins with a flavorful marinade featuring soy sauce, sake, and mirin. It makes a spectacular addition to a warm buffet.
Explosively flavored with sriracha, Thai chile sauce, and Louisiana hot sauce, broccoli takes on an exciting persona, especially when drizzled with a creamy blue cheese sauce. If desired, substitute brussels sprouts for the broccoli. Serve as an appetizer or a side dish.
This bell pepper salad with capers and pine nuts is a sweet-sour salad of flame-charred bell peppers with currants for sweetness, capers for tang, and pine nuts for crunch. In Italian, it's called "Peperoni ai Ferri con Capperi e Pinoli." For holiday color, roast red and green peppers and alternate them in rows on the serving platter.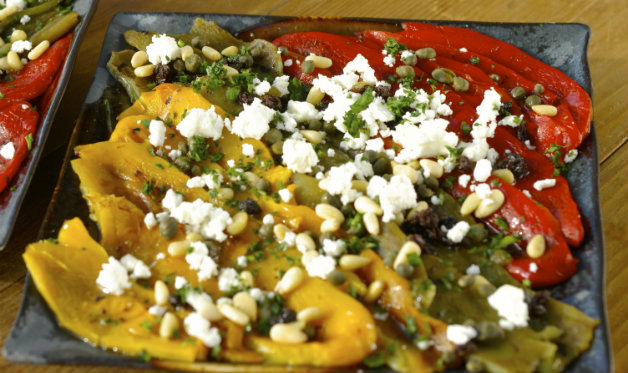 Spiced with orange peel, cinnamon, and cardamom, this appealing quick bread can be baked in a pellet grill with precise temperature control or in your oven. First shared in Steven's novel, The Hermit of Chappaquiddick, it can be wrapped in cellophane or foil and given as hostess gifts this holiday season.
Baby, it's cold outside. But that's no reason not to try this luscious, holiday-appropriate dessert. While you can smoke homemade ice cream, we've had great success with high-quality commercial ice creams. And the subtle smoke flavors merges beautifully with a simple rum-raisin sauce. You can give the latter in an attractive jar as a gift.
What are your favorite things to cook during the winter December months? Let us know on Facebook, Twitter, Reddit, or Instagram!
Join the Discussion