Brazilian Beer Chicken
Steven Raichlen
The United States isn't the only place where beer and barbecue are inextricably interwoven. In Rio de Janeiro I came across this savory grilled chicken, which owes its exceptional succulence to a two-day bath in beer. Try, if possible, to find a Brazilian beer: Antarctica (a pilsner-style brew) will produce a mild-flavored chicken; Xingu Black Beer (a dark bitter stout) will produce a bird with a rich, malty flavor.
Print
Brazilian Beer Chicken
Recipe Notes
Advance Prep: 6 hours to 2 days for marinating the chicken
Yield: 4 servings
Method: Direct Grilling
Ingredients
2 cups beer
1/2 cup vegetable oil
1/2 cup Dijon mustard
1 tablespoon sweet paprika
1 teaspoon freshly ground black pepper
1 medium-size onion, thinly sliced
12 cloves garlic, thinly sliced
2 bay leaves
1 chicken (3 1/2 to 4 pounds), quartered
Coarse salt (kosher or sea)
Recipe Steps
Step 1: Combine the beer, oil, mustard, paprika, and pepper in a nonreactive bowl large enough to hold the chicken pieces and whisk thoroughly to blend. Stir in the onion, garlic, and bay leaves.
Step 2: Rinse the chicken pieces under cold running water, then drain and blot dry with paper towels. Add the chicken to the marinade and turn to coat. Let the chicken marinate in the refrigerator, covered, for 6 hours, or up to 2 days (the longer the better), turning the chicken pieces occasionally.
Step 3: Set up the grill for two-zone direct grilling, preheating two thirds of the grill to medium and leaving one third heat free as a safety zone.
Step 4: When ready to cook, remove the chicken pieces from the marinade, setting aside the marinade. Blot the chicken dry with paper towels and season it generously with salt.
Step 5: Brush and oil the grill grate. Arrange the chicken pieces, skin side down, on the grate over the hot zone of the grill and cook until the skin is golden brown and the meat is cooked
through without any trace of red at the bone, 8 to 12 minutes per side. If you get flare-ups, move the chicken to the safety zone until the flames die down. During the first 10 minutes of grilling only, brush the chicken several times with the reserved marinade.
Step 6: Transfer the chicken pieces to serving plates and serve.
Find This Recipe
And More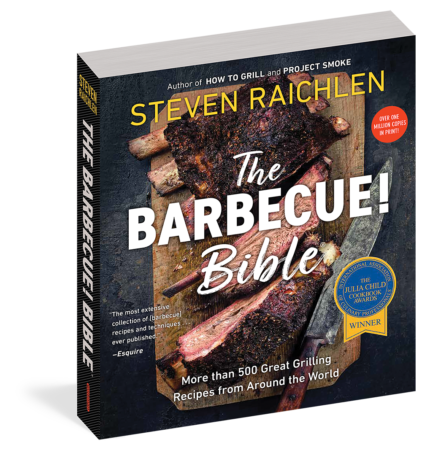 Steven Raichlen's Barbecue! Bible offers the biggest collection of barbecue recipes and grilling recipes ever developed.
Buy Now ‣