Canadian Bacon
Steven Raichlen
Making your own brined and smoked Canadian bacon is a satisfying project, requiring a mere 20 minutes of hands-on prep time, 4 to 5 days of curing in a wet brine (use of an injecting needle makes quicker work of this step), and about 2 to 2 ½ hours of smoking. Steven first showcased this recipe on Season 1 of Project Smoke. The recipe also appears in his book by the same name.
Love Bacon? Try These Bacon Recipes:
Print
Canadian Bacon
Recipe Notes
Advance Prep: Brining time: 4 to 5 days
Yield: Serves 6 to 8
Method: Hot smoking
Equipment: Big Green Egg; apple wood (enough for 2 1/2 to 3 hours of smoking)
Ingredients
2 1/2 to 3 pound pork loin
For the brine:
6 whole star anise
1/2 tablespoon fennel seeds
1/2 tablespoon black peppercorns
2 quarts warm water
1 cup kosher or sea salt
2/3 cup sugar
2 teaspoons pink curing salt (Prague Powder No. 1 or Insta Cure No. 1)
1/2 cup sliced fresh fennel fronds and bulb
2 sprigs fresh thyme or 1 teaspoon dried
1 bay leaf
1 clove garlic, flattened with the side of a cleaver
2 quarts ice water
Recipe Steps
Step 1: Make the brine: In a large heavy dry saucepan, roast the star anise, fennel seeds, and peppercorns over medium-high heat until toasted, aromatic, and a little shiny, 2 minutes. Add 1 quart of warm water, the salt, sugar, Prague powder, fennel, thyme, bay leaf, and garlic. Bring to a boil, stirring occasionally, and boil until the salt, sugar, and Prague powder dissolve, 3 minutes. Remove the pan from the heat; add the ice water. Let the brine cool completely to room temperature.
Step 2: Place the pork loin in a very large heavy-duty resealable plastic bag. Add the brine and place the bag in a foil pan. Brine the pork in the refrigerator for 4 to 5 days, turning it over once a day. Note: You can speed up the curing process by 2 days by injecting the pork loin with some of the brine on day 1 and injecting again after 2 days.
Step 3: Drain the pork loin well, discarding the brine. Rinse loin and blot dry. Set it on a wire rack over a baking sheet and let it air dry at room temperature for 30 minutes.
Step 4: Meanwhile, set up your smoker following the manufacturer's instructions and preheat to 225 to 250 degrees F. Add the wood as specified by the manufacturer.
Step 5: Place the pork loin in the smoker fat side up. Smoke until bronzed with smoke, cooked through, and the internal temperature registers 160 degrees, about 2 1/2 to 3 hours.
Step 6: Transfer the pork loin to a wire rack over a baking sheet and cool to room temperature. Wrap with plastic wrap and chill overnight.
Step 7: To serve the bacon, slice thinly across the grain. Grill or panfry to heat.
Find This Recipe
And More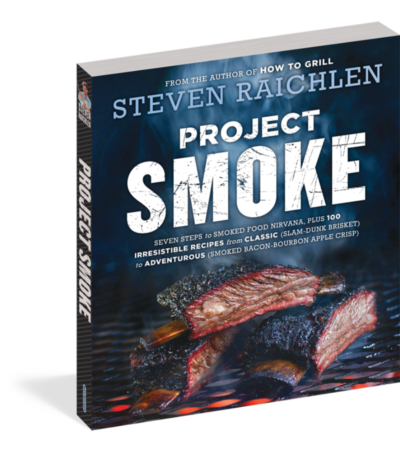 New York Times Bestseller Project Smoke is the How to Grill of smoking, both a complete step-by-step guide to mastering …
Buy Now ‣