Caveman T-Bones with Hellfire Hot Sauce
Steven Raichlen
The ultimate primal grilling—T-bone steaks charred directly on the embers and topped with an incendiary sauce of jalapeños, cilantro, and garlic.
Print
Caveman T-Bones with Hellfire Hot Sauce
Recipe Notes
Yield: Serves 4 hungry eaters
Equipment: An 8 to 10–inch cast-iron skillet
Ingredients
For the steaks:
4 T-bone steaks (each about 1 1/4 inches thick and 12 to 14 ounces)
Coarse salt (kosher or sea) and cracked black peppercorns
For the hellfire hot sauce:
3/4 cup extra-virgin olive oil
10 jalapeño peppers, thinly sliced crosswise
10 cloves garlic, thinly sliced
3/4 cup loosely packed fresh cilantro leaves, coarsely chopped
Recipe Steps
Step 1: Grill the steaks: Build a charcoal fire and rake the coals into an even layer (leave the front third of the grill coal free). When the coals glow orange, fan them with a newspaper or hair dryer to blow off any loose ash.
Step 2: Generously, and I mean generously, season the steaks on both sides with salt and cracked pepper. Place the steaks directly on the embers about 2 inches apart. Grill the steaks until cooked to taste, 4 to 6 minutes per side for medium-rare, turning with tongs. Use the poke test to check for doneness.
Step 3: Using tongs, lift the steaks out of the fire, shaking each to dislodge any embers. Using a basting brush, brush off any loose ash and arrange the steaks on a platter. Cover the steaks loosely with aluminum foil and let them rest while you make the sauce.
Step 4: Make the hellfire hot sauce: Heat the olive oil in a cast-iron skillet directly on the embers, on the side burner of a gas grill, or on the stove. When the oil is hot, add the jalapeños, garlic, and cilantro. Cook the sauce over high heat until the jalapeños and garlic begin to brown, about 2 minutes. Immediately pour the sauce over the steaks and go for it.
Find This Recipe
And More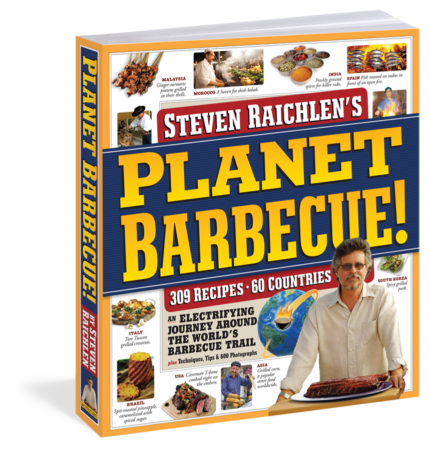 The most ambitious book yet by America's bestselling, award-winning grill expert whose Barbecue! Bible books have over 4 million copies …
Buy Now ‣