Cherry Lambic Barbecue Sauce
Steven Raichlen
This sauce offers a triple whammy of lush fruit flavor — from whole cherries, cherry preserves, and cherry beer. In the best of all worlds, you'd use fresh cherries, pitted with a cherry pitter (they're available at cookware stores). You can also make a highly tasty sauce with frozen cherries or even drained canned cherries. If you'd prefer the sauce to be chunky, don't run it through the blender. In the unlikely event you have sauce left over, it goes well on grilled or smoked chicken, duck, ham, or pork.
Print
Cherry Lambic Barbecue Sauce
Recipe Notes
Method: Makes about 3 cups
Ingredients
2 tablespoons unsalted butter
3 shallots, or 1 medium-size onion, finely chopped (about 1 cup)
2 cups pitted black or sour cherries, drained if canned, thawed if frozen, or 3/4 cup dried cherries (see Tips, below)
1 1/2 cups (12 ounces) kriek lambic or other cherry beer
1/2 cup ketchup
1/2 cup cider vinegar
6 tablespoons brown sugar, or more to taste
2 tablespoons honey
1/4 cup cherry preserves
1/2 tablespoons Worcestershire sauce
Coarse salt (kosher or sea) and freshly ground black pepper
Recipe Steps
Step 1: Melt the butter in a heavy nonreactive saucepan over medium heat. Add the shallots and cook until translucent but not brown, 3 to 4 minutes. Add the cherries and cook until soft, about 2 minutes. (If using dried cherries, add 2 to 3 tablespoons of water.)
Step 2: Add the beer and increase the heat to high. Let the beer simmer briskly until the liquid is reduced by about half, 4 to 6 minutes. Reduce the heat to medium and add the ketchup, vinegar, brown sugar, honey, cherry preserves, Worcestershire sauce, and a little salt and pepper. Let the sauce simmer gently until richly flavored and slightly thickened, 4 to 6 minutes.
Step 3: Remove the pan from the heat and let the sauce cool slightly, then puree it in a blender. Taste for seasoning, adding more brown sugar, salt, and/or pepper (or any other ingredient) as necessary; the sauce should be highly seasoned. Let the sauce cool to room temperature before serving. The sauce can be refrigerated, covered, for at least a week. Let it return to room temperature before using.
Recipe Tips
You can you use sweet black bing cherries or sour Montmorency or yellow cherries — all will be great in the sauce.
A drained 1 1/2 pound jar of cherries will give you 2 cups. If you use canned cherries, save a little of the juice for thinning the sauce in Step 3, if necessary.
Find This Recipe
And More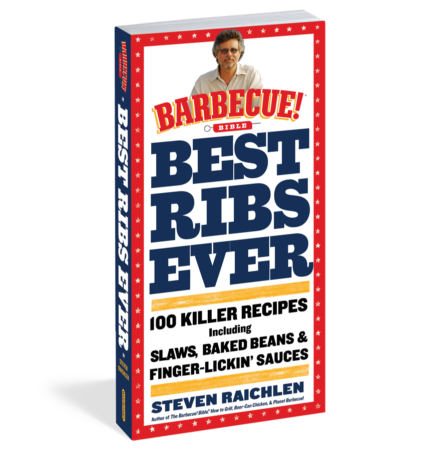 Say it loud, say it proud: the Best Ribs Ever. The perfect single-subject cookbook for every meat-loving griller, this book, …
Buy Now ‣