Cider Squirt Mop Sauce
Steven Raichlen
One of the secrets of world-class barbecue is consistent and conscientious basting while the meat is cooking. The traditional tool for basting is literally a kitchen mop, but more and more pit jockeys are using spray bottles or misters. Here's a simple baste that's short on preparation time but long on flavor. The recipe was inspired by a Memphis-based barbecue team I met a few years back called Crispy Critters.
Print
Cider Squirt Mop Sauce
Recipe Notes
Yield: about 1 quart, enough for 4 pounds of meat
Ingredients
2 cups apple cider
3/4 cup cider vinegar
1/2 cup bourbon
1/2 cup water
1/4 cup Worcestershire sauce
1/4 cup lemon juice
1/2 teaspoon salt
Recipe Steps
Step 1: Combine all the ingredients in a heavy saucepan and bring to a boil. Reduce the heat and simmer the sauce for 5 minutes. Let cool to room temperature. Transfer the squirt to a spray bottle and use right away or refrigerate. Use within 1 or 2 days of making.
Recipe Tips
You wouldn't want to eat this stuff straight, but spray it on roasting or smoking meat and it adds a world of flavor. I put the "squirt" in a spray bottle and spray it right on the meat. Alternatively, brush it on with a mop or basting brush. When cooking chicken or ribs, apply every 30 minutes. When cooking a large cut of meat (like a brisket or pork shoulder), apply every hour.
Find This Recipe
And More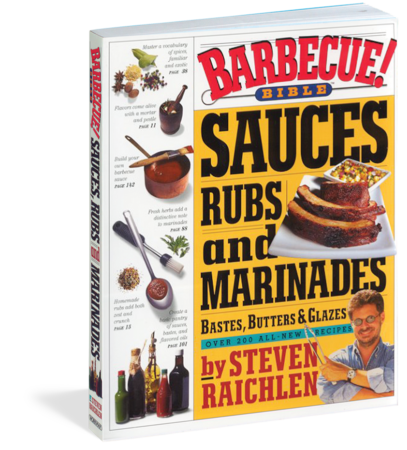 Marinate skewers of beef tips in Tex-Mex Tequila-Jalapeno Wet Rub before putting them on the grill. Or slather pork chops …
Buy Now ‣