Cousin Dave's Chocolate Chipotle Ribs
Steven Raichlen
My cousin Dave is the other professional griller in the family — with a PhD, he's a university anthropologist by day and a barbecue fanatic at night and on the weekends. (He helped finance his graduate school studies in Austin, Texas, by smoking whole hogs for weddings and cookouts.) Dave contributed the muy fabuloso Grill-Top Shrimp "Boil" recipe in BBQ USA, and it was only natural that I touch base with him for ribs. He and his barbecue buddy Russ Glass responded with these chipotle and chocolate flavored bones, which certainly sound bizarre — until you pause to consider that chiles and chocolate are the backbone of the classic Mexican sauce mole poblano.
Print
Cousin Dave's Chocolate Chipotle Ribs
Recipe Notes
Advance Prep: At least 4 hours for marinating the ribs
Yield: 4 servings
Method: Indirect Grilling
Equipment: 1 1/2 cups wood chips or chunks (preferably oak), soaked for 1 hour in water to cover, then drained.
Ingredients
3 to 6 canned chipotle peppers, with 1 tablespoon of their juice
1/2 medium-size onion, coarsely chopped (1/2 cup)
2 cloves garlic, coarsely chopped
1/4 cup chopped fresh cilantro, plus 1/4 cup chopped cilantro for garnish
1/2 ounce semisweet chocolate, coarsely grated or cut into pieces
2 strips (each 1/2 by 1 1/2 inches) fresh lemon zest, coarsely chopped
2 tablespoons brown sugar
1 tablespoon pure chile powder, such as ancho chile powder
2 teaspoons coarse salt (kosher or sea)
1 teaspoon lemon pepper
2 to 3 tablespoons vegetable oil
2 racks baby back pork ribs (4 to 5 pounds total)
Lime wedges, for serving
Recipe Steps
Step 1: Place the chipotles and their juice, onion, garlic, 1 ⁄4 cup of cilantro, chocolate, lemon zest, brown sugar, chile powder, salt, and lemon pepper in a food processor and puree, adding enough oil to obtain a thick paste.
Step 2: Prepare the ribs: Place a rack of ribs meat side down on a baking sheet. Remove the thin, papery membrane from the back of the rack by inserting a slender implement, such as a butter knife or the tip of a meat thermometer, under it. The best place to start is on one of the middle bones. Using a dishcloth, paper towel, or pliers to gain a secure grip, peel off the membrane. Repeat with the remaining rack.
Step 3: Using a rubber spatula, spread the chipotle paste on both sides of the racks. Cover the ribs with plastic wrap and let marinate in the refrigerator for at least 4 hours or as long as overnight. The longer the ribs marinate, the richer the flavor will be.
Step 4: Set up the grill for indirect grilling and preheat to medium (325° to 350°F). Place a large drip pan in the center of the grill under the grate.
Step 5: When ready to cook, brush and oil the grill grate. Place the ribs bone side down in the center of the grate over the drip pan and away from the heat. (If your grill has limited space, stand the racks of ribs upright in a rib rack.) If cooking on a charcoal grill and using wood chips, toss half of them on each mound of coals. Cover the grill and cook the ribs until well browned, cooked through, and tender enough to pull apart with your fingers, 1 1/4 to 1 1/2 hours. When the ribs are done, the meat will have shrunk back from the ends of the bones by about 1/4 inch. If using a charcoal grill, replenish the coals as needed.
Step 6: Transfer the ribs to a large platter or cutting board. Let the ribs rest for a few minutes, then cut the racks in half or into individual ribs. Sprinkle the ribs with the remaining cilantro. Serve at once with lime wedges.
Recipe Tips
Chipotle peppers (smoked jalapeños) come canned and dried, and this is one instance where I actually recommend the canned product. The reason is simple: Canned chipotles come in a spicy vinegar sauce called adobo, and they have a lot more flavor than the dried.
Like all good Tex-Mex barbecue, these ribs turn out best when cloaked in fragrant wood smoke. For the optimal results, cook them on a charcoal grill or in a smoker.
How to cook Chipotle Chocolate Ribs in a smoker: Set up and light the smoker according to the manufacturer's instructions and preheat to low (225° to 250°F). Place the ribs in the smoker bone side down and smoke until cooked through, 4 to 5 hours. You'll need to replenish the wood chips or chunks after the first and second hour of smoking and to replenish the coals every hour.
Find This Recipe
And More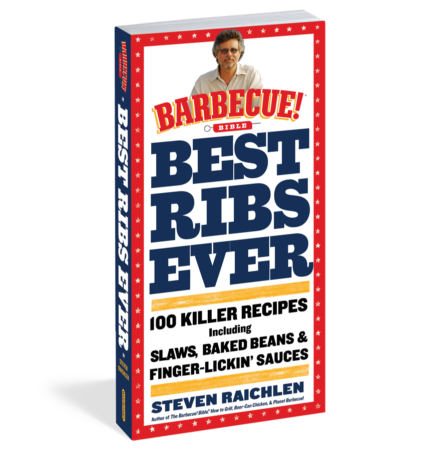 Say it loud, say it proud: the Best Ribs Ever. The perfect single-subject cookbook for every meat-loving griller, this book, …
Buy Now ‣