German Whole Hog (Spanferkel)
Steven Raichlen
The summun bonum of German barbecue, spanferkel is a whole hog slathered with a spice-scented seasoning paste, spit roasted over wood, and glazed with three ingredients near and dear to any German's heart: dark, malty German beer, honey, and ginger — the flavorings Nuremberg's beloved lebkuchen (gingerbread).
Print
German Whole Hog (Spanferkel)
Recipe Notes
Advance Prep: 12 to 24 hours for marinating the pig
Yield: 18 to 24
Method: Spit Roasting
Ingredients
For the wet rub and hog:
2 tablespoons coarse salt (kosher or sea)
2 tablespoons ground ginger
2 tablespoons curry powder
2 tablespoons ground coriander
2 tablespoons dried marjoram
2 tablespoons freshly ground black pepper
1/2 teaspoon cayenne pepper
3/4 to 1 cup vegetable oil
1 small pig (25 to 30 pounds), gutted and dressed
For the honey and beer glaze:
8 tablespoons (1 stick) salted butter
3 tablespoons minced peeled fresh ginger
1 cup honey
1 cup dark beer
Recipe Steps
Step 1: Make the wet rub by combining the salt, ground ginger, curry powder, coriander, marjoram, black pepper, and cayenne pepper in a bowl and stirring in enough oil to obtain a thick, fragrant paste. Place one-third of the wet rub in the cavity of the pig and spread it with a spatula. Spread the remaining wet rub all over the outside of the pig. (If possible, let the pig marinate in the refrigerator, covered, or in an ice-filled cooler for 12 to 24 hours.)
Step 2: Shortly before you are ready to spit-roast, make the glaze: Melt the butter in a heavy saucepan over medium heat. Add the fresh ginger and cook until fragrant but not brown, about 2 minutes. Stir in the honey and beer and let the mixture boil until bubbly and glazy, about 2 minutes. Set the honey and beer glaze aside. You may need to rewarm the glaze if the butter cools and solidifies.
Step 3: Attach the pig to the spit (this is a two-person job). Turn on the motor and spit-roast the pig until the skin is a dark golden brown and crackling crisp and the meat is cooked through (190 to 195 degrees F when read on an instant-read meat thermometer inserted in the deepest part of the shoulder and ham). Start basting the pig with the honey and beer glaze after about 1 1/2 hours, then baste it every 30 minutes. Add fresh coals to keep the fire going. Mound, rake out, or move the coals, using a grill hoe or a garden hoe, as needed to assure even cooking. The cooking time will vary depending on your particular pig, rotisserie, altitude, and the weather. Normally, 5 to 6 hours will do it.
Step 4: When done, transfer the pig to a sturdy worktable and remove the spit. Let the pig rest, loosely tented with aluminum foil, for about 20 minutes before carving it. Serve any remaining honey and beer glaze drizzled over the pork.
Find This Recipe
And More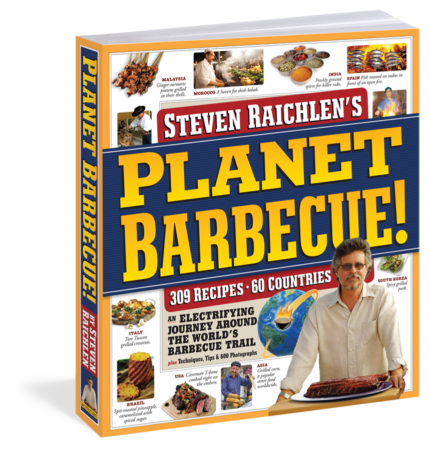 The most ambitious book yet by America's bestselling, award-winning grill expert whose Barbecue! Bible books have over 4 million copies …
Buy Now ‣