Grilled Vegetables in the Style of Santa Margherita
Steven Raichlen
I guarantee you'll never taste better grilled vegetables, nor feast your eyes on a handsomer platter.
Print
Grilled Vegetables in the Style of Santa Margherita
Recipe Notes
Yield: 8 servings
Method: Direct Grilling
Equipment: Vegetable grate (optional)
Ingredients
2 medium-size red bell peppers
2 medium-size yellow bell peppers
2 Belgian endives
1 pounds fresh cremini or regular white mushrooms, stemmed, caps wiped clean with dampened paper towels
4 small eggplants or zucchini
1/2 cups extra-virgin olive oil
Coarse salt (kosher or sea) and freshly ground black pepper
1 pounds thick asparagus, fibrous ends removed
8 small ripe tomatoes
2 tablespoons balsamic vinegar (optional)
8 lemon wedges, for serving
Recipe Steps
Step 1: Core, halve, and seed the red and yellow bell peppers, then cut each pepper in half lengthwise into 3 strips. Cut the endives lengthwise in quarters, leaving the stem ends attached. Cut the mushrooms in half and the eggplants in half lengthwise.
Step 2: Set up the grill for direct grilling and preheat to high.
Step 3: When ready to cook, preheat a vegetable grate (if using) for 5 minutes, then brush and oil it or the grill grate. Lightly brush the bell pepper pieces with some of the olive oil, season them with salt and black pepper to taste, and arrange them on the hot grate. Grill the bell peppers until lightly charred on both sides, leaving the skins intact, 4 to 6 minutes per side. Brush the bell peppers lightly with olive oil and season them with salt and black pepper once or twice as they grill. Transfer the bell peppers to a platter. Leave the fire burning.
Step 4: Oil, season, and grill the endives, mushrooms, eggplants, asparagus, and tomatoes the same way as the bell peppers. Each vegetable should be nicely charred on the outside and soft and tender inside; depending on the vegetable, this will take 3 to 6 minutes per side. Brush all of the vegetables lightly with olive oil and season them with salt and black pepper once or twice as they grill.
Step 5: Arrange the grilled vegetables in rows on a platter, varying the colors and shapes. Drizzle the remaining olive oil on the top of the hot vegetables and let cool.
Step 6: Just before serving, season the vegetables again with salt and pepper. If you like, drizzle a little balsamic vinegar on top. Serve lemon wedges on the side for squeezing over the vegetables.
Find This Recipe
And More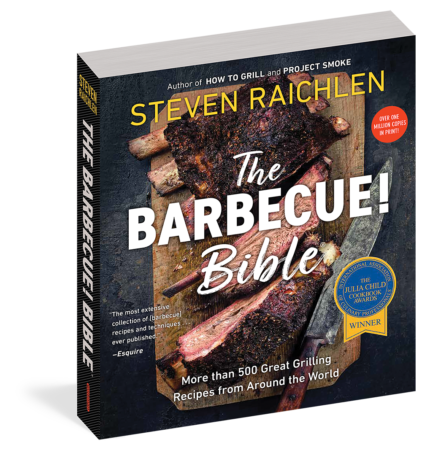 Steven Raichlen's Barbecue! Bible offers the biggest collection of barbecue recipes and grilling recipes ever developed.
Buy Now ‣