Uptown S'mores
Steven Raichlen
Anyone who ever attended camp or a Boy or Girl Scout cookout will remember s'mores. To make them, you sandwiched freshly roasted marshmallows between graham crackers and chocolate candy bars. The marshmallows melted the chocolate, which got all over your face and fingers. The overall effect was so tasty, you cried out for "s'more" (some more). Here's a s'more for grownups, made with chocolate chip cookies and superpremium chocolate.
Print
Uptown S'mores
Recipe Notes
Yield: Makes 8; serves 4 to 8
Method: Direct Grilling
Equipment: 1 long metal skewer for each person
Ingredients
8 large marshmallows
8 thin squares (each 2 inches) premium dark chocolate
16 chocolate chip cookies, preferably homemade
Recipe Steps
Step 1: Skewer the marshmallows and set them aside, one per skewer.
Step 2: Set up the grill for direct grilling and preheat to high.
Step 3: When ready to cook, if you are using a charcoal grill carefully remove the grill grate. Roast the marshmallows over the glowing embers or as close to as possible, but not touching, the grate of a gas grill, until darkly browned, 2 to 4 minutes, turning the marshmallows so they roast evenly. Some people (myself included) like to set the marshmallows on fire, then blow them out.
Step 4: Place a piece of chocolate on the bottom (the flat side) of a cookie. Ease a hot marshmallow off the skewer onto the chocolate. Place a second cookie (flat side down) on top of the marshmallow to make a sandwich. Wait a few seconds for the hot marshmallow to melt the chocolate, then eat the s'more like a sandwich. Nostalgia never tasted so good!
Recipe Tips
Find This Recipe
And More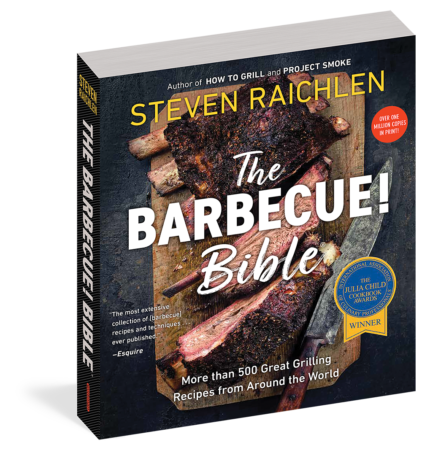 Steven Raichlen's Barbecue! Bible offers the biggest collection of barbecue recipes and grilling recipes ever developed.
Buy Now ‣