The Smokers of Project Smoke, Season 1
Playboy (or Playgirl). Maxim. Sports Illustrated. Here at BarbecueBible.com we have our own parade of pinups. They're called grills and smokers and they inspire the same sort of lust in this community that scantily clad bodies do elsewhere. Many of you have been asking for a complete list of the grills and smokers used on the new Steven Raichlen's Project Smoke TV series on public television (Season 1). (Click here to see where it's airing near you.) These babes are, well, hot.

Bradley electric smoker: Jerky. Cheesecake. Deviled eggs. These are just a few of the dishes we smoked in this incredibly versatile electric smoker, designed and manufactured by the Bradley family near Vancouver, British Colombia. Thermostatic heat control lets you set the temperature to the precise degree; a wide range of "bisquettes" (sawdust disks) enable you to smoke with every fuel from cherry to alder to whiskey barrel wood. www.bradleysmoker.com

Horizon Marshal and Ranger: When it comes to smoking packer briskets, shoulder hams, and whole sides of Alaskan King salmon, we rolled out the big guns, or more precisely, these 20-inch diameter smokers manufactured from 1/4-inch steel oil pipe by Roger Davidson and company in Perry, Oklahoma. Special kudos for the vertical cold smoke chamber in the Horizon Ranger and the grill grate that fits over the firebox for direct grilling in all Horizon models. www.horizonbbqsmokers.com

Pit Barrel Cooker: Sometimes price tags deceive you. You can buy a PBC with delivery to your door for under $300, but this affordable vertical drum cooker delivers oversize results. Smoke chickens, ducks, and whole beef tenderloins vertically, or grill steaks, chops and burgers directly over charcoal. Thanks to its ingenious thermodynamics, the PBC holds an even temperature without the usual vents or airflow mechanisms. (Tip: to raise the heat, set the lid slightly ajar.) www.pitbarrelcooker.com

Big Green Egg: We like this ceramic cooker so much, we used 4 different sizes on Project Smoke: big, bigger, and enormous (the latter for a school of cedar-planked bacon-wrapped trout). The thick ceramic walls hold in the heat, while the unique venting system enables you to smoke low and slow, grill over a screaming hot fire, and cook at every temperature in between. Did I mention the new BGE Mini we used to smoke nachos with for our Tailgating show? www.biggreenegg.com

Memphis Wood Fire Grill: Think of the handsome sleek stainless steel Memphis as the Tesla of pellet grills, with sophisticated electronics to control cooking temperature and smoke output and even check the doneness of your reverse seared tri-tip or turkey. My favorite feature (besides the convenience)? A removable burn chamber cover plate you can remove so you can actually direct grill over the pellet fire. www.memphisgrills.com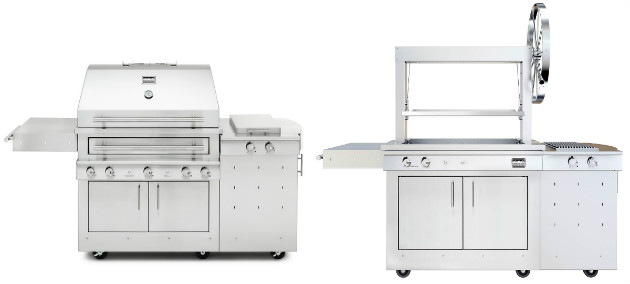 Kalamazoo: Speaking of luxury vehicles, the Kalamazoo Hybrid Fire Grill (burns wood, charcoal, or gas) and new wood-fired Gaucho Grill cost only slightly less than a new car, but when it comes to rugged beauty and performance, they're worth every penny. Grilling with wood gives you a different flavor than smoking with wood—a smoke fragrance to be sure, but with a fiery sear that preserves the pristine flavor of the meat. We spit-roasted a whole pork loin on the Hybrid Fire Grill and a 22-pound prime rib on the Gaucho. Now that's what I call meat heaven. www.kalamazoogourmet.com

The Smoke 'n' Fire Xtreme Smoker: We loved this rugged smoker that turns the traditional offset barrel smoker design on its head. The fire chamber has been expanded and positioned next to (not on the side of) the smoke chamber. The result: a cooker that serves equally well for low and slow smoking and high fire direct grilling. www.smokenfire.com

Weber: The Weber® kettle grill, introduced in 1952, became America's first widely available grill suited to backyard smoking. The Weber® Performer® charcoal grill puts that kettle in a cart with a convenient gas ignition system for lighting the charcoal. (Tip: for low slow smoking, use only half the normal amount of charcoal.) The Weber® Smokey Mountain Cooker™ smoker (a.k.a. WSM and the Bullet) keeps smoked foods moist thanks to its upright design and water pan. www.weber.com

Camerons Stovetop Smoker: This unassuming stainless steel box was the first smoker I ever owned, and I still use it for smoking kippered salmon, creamed corn, and other vegetables. Place a spoonful of hardwood sawdust in the bottom. Add the drip pan (lined with foil), wire food rack, and cover and you're in business. Great for apartment and condo dwellers when you can't smoke outdoors. www.cameronsproducts.com

Polyscience Smoking Gun: Amazement. That was the expression on the crew's faces when I unholstered this pistol-shaped handheld smoker and used it to pump wood smoke into Manhattans and bloody Marys. Load the smoke chamber with your favorite hardwood sawdust. Light it and switch on the blower. The rubber smoker hose directs the smoke to any glass, pitcher, bar shaker, food-filled bowl or bell jar you desire. www.polyscienceculinary.com
And while we're at it, a shout out to our other fine sponsors:
Kingsford Charcoal: Manufacturers of America's favorite charcoal briquette. www.kingsford.com
Trivento wines: Great Malbec and other wines from Argentina that go perfectly with smoked and grilled meats. www.trivento.com
ThermoWorks: The industry standard for digital and wireless thermometers. www.thermoworks.com
The Companion Group: The world's premier manufacturer of grilling and smoking accessories. www.companion-group.com
Click here to see the smokers and grills of Project Smoke, Season 2.